A smart trainer is a piece of equipment you connect to your bike to keep you from losing your mind when riding inside. But with the added benefit of cycling apps such as Zwift. It allows the resistance and other parameters to be controlled. Now 'smart' means two-way communication on speed power and often cadence between apps on your phone, computer or tablet and the smart trainer. Most importantly, it means that apps can control the resistance of the trainer so when you come to a virtual hill or the start of a hard workout, the trainer adjusts automatically making it more difficult to pedal.
So these are the top budget smart trainers that will make your training more fun and realistic than ever before.
1. Xplova NOZA S
2.5% power accuracy (+/-)
Maximum Power 2500 watts
ANT+ FE-C or Bluetooth Smart Data
18% simulated incline
5.9kg flywheel
Xplova NOZA S is a quiet, stable, and easy-to-use smart trainer that offers a quality ride at an affordable price. The NOZA S is the first smart trainer that they have ever created. Xplova is owned by huge multinational electronics company Acer. NOZA S is also sold under the brand name LifeLine on Wiggle and Chain Reaction Cycles. The setup is easy with included adaptors for thru-axles and there's no issue with connectivity whether using Zwift or the Xplova Workout app. The whole setup takes about 15 minutes from getting this thing out of the box to getting on the platform like Zwift.
This trainer offers adjustable legs and it fits everything from a 24-inch to 29-inch mountain bike. As for the road bikes, it's going to fit a 700c wheel. They don't provide a cassette out of the box so you need to buy a cassette separately. Also, keep in mind that it's not compatible with Campagnolo, XD or Micro Spline. You'll also need the correct and compatible freehub tool to tighten everything up. With the complete setup, the unit weighs around 17.7kg, which makes it a little difficult to carry around. With this high weight, it is a super stable platform that gives quality rides. Overall, the Xplova NOZA S is a great piece of kit to keep your fitness up during those winter months.
Pros: Great ride feel, stable, super quiet, easy to use
Cons: Power accuracy could be improved, no carrying handle, no cadence data, does not fold
View at Wiggle View at Chain Reaction Cycles View at Amazon
2. Elite Direto
Bluetooth, ANT+ FE-C connectivity
Compatible with Shimano & Campagnolo 9/10/11 speed
Weighs around 15kg
The flywheel is 4.2kg
Comes with a UK plug
The Direto is Elite's mid-range interactive trainer and it certainly comes with a price tag to match so you can expect big things from it. Out of the box, there's a little assembly required to fit the legs but it's nothing complicated. It's a hefty unit weighing around 15 kilograms with a flywheel that weighs 4.2 kilograms. This makes transporting it around difficult but this does make for a very stable unit. It's compatible with 9/10/11 speed Shimano cassette and can be set up to run Campagnolo cassettes as well. Elite Direto offers a maximum resistance of 1400 Watt at 40km/h or 2200 Watt at 60 km/h. That is a very huge amount of power and in fact, you will never run out of resistance.
Plugging in and setting up the Direto couldn't be easier. You just switch it on and it's ready to go. You can firstly use it in ERG mode, which lets you set a specific power and ride to it. This mode allows you to keep a steady power output throughout your ride. The trainer will then adjust the resistance to keep everything even. A second simulation mode allows you to set an incline. You could set the average gradient of your favorite climb for example and then ride against the resistance profile that reflects this. The Elite Direto can simulate inclines of up to 14%.
Pros: The ride feel is impressive even when riding for long hours and it doesn't feel bad on the body.
Cons: A little heavy and noisy, large size, cassette not included
View at Wiggle View at Chain Reaction Cycles
3. Saris H3
Noise level: 59 decibels at 20 mph
Power Accuracy: +/- 2%
2000 watts at 20 mph
Simulates a 20% climbing grade
Integrated dual ANT+ FE-C and Bluetooth
The Saris H3 is the brand's top-end interactive trainer and it is extremely competitive price-wise. It has undercut all of its nearest rivals by a considerable amount. Reducing noise levels was one of the biggest priorities and this has been tackled with a new belt set up. The H3 also features a new drive mechanism and a new cooling system compared to its predecessor. It's good to see all of the necessary adaptors for all common axle types are in the box. However, there is no skewer or cassette in the box so you will need to add these onto your budget.
Minimal setup is required and all you have to do is pull out the stability legs. With the legs folded in for storage, the unit is just 24 centimetres wide. If you're using a software package such as Zwift, everything just works which makes life easy even for the least technically minded. Plus with speed cadence and power measurements all being built into the unit there's no need for any external sensors. From the first pedal stroke, it's obvious how stable the H3 is. This is largely down to the wide legs and weight of the unit. The ride that the 9kg flywheel offers is up there with the very best direct drive trainers and is especially good given the price.
Pros: Reduced noise, excellent ride feel, competitive price
Cons: No cassette included
View at Wiggle View at Chain Reaction Cycles View at Amazon
4. Kinetic R1
Power Accuracy: +/-3%
Maximum Slope: 20%
Maximum Resistance: 2000 watts
ANT+, ANT+ FE-C, and Bluetooth
Compatible with: Kinetic Fit, Zwift, TrainerRoad, and some others
Rather than just follow the crowd, Kinetic has done something a little different with the R1. It allows a degree of natural side-to-side movement. Some trainers like the BKool Smart AirLite, have a natural movement because of their design but it is not as deliberate in the way that the R1 is. Hopping on the bike is a new sensation compared to the more rigid feel of other smart trainers. At first, it feels like there's too much movement but once you settle into a smooth paddling style, you quickly forget it's there and the right becomes less wobbly and the subtlety of it feels quite good. Putting the power down also feels good.
The controlled resistance does a good job of simulating any changes in terrain and will work with gradients of up to 20%. I also found the output from the R1 to be pretty accurate. The R1 is relatively quiet and it's never going to upset someone in the next room but it is a little bit louder than many of its competitors. From my iPhone app reading, I got an average of 75 decibels. This is 15 decibels louder than Wahoo's Kickr and 10 decibels louder than the Elite Drivo II.
Pros: Sideways movement, good ride feel
Cons: A little louder than competitors, no cassette
View at Wiggle View at Chain Reaction Cycles
5. Wahoo KICKR Snap
Optimized flywheel technology
Quiet operation
Controlled resistance
12% maximum grade simulation
+/- 3% power accuracy
Wahoo KICKR Snap is a fully interactive smart trainer that brings a realistic ride experience indoors. One of the great things about KICKR Snap is that it is a wheel-on trainer, which means the bicycle rear wheel doesn't have to come off the bike. At 17.2 kg, the KICKR Snap is heavy-duty, sturdy, and durable. It holds up easily for simple storage. The KICKR Snap has a lever that acts as a quick-release to help with mounting and dismounting your bikes. Both 130 and 135 mm quick-release hubs are supported and they weld by 142 through axle is supported with an adapter.
The KICKR Snap works with both 650 and 700C road wheels. Once the KICKR Snap is powered up, it works with several trainer apps including Zwift, TrainerRoad, and others. Like the original KICKR, the KICKR Snap broadcast on ANT+ and Bluetooth smart concurrently allowing it to work with a wide variety of cycling computers and devices. These apps allow the KICKR Snap to plan and execute specific workouts, ride virtually with friends, and simulate outdoor routes greatly improving the indoor cycling experience. Wahoo recommends a maximum user weight of 113.3 kg for the KICKR Snap. It can handle a maximum power output a 1500 watts and simulate a maximum grade of 12%.
Pros: Sturdy and stable construction, controlled resistance with Zwift and TrainerRoad, easy set-up with 'snap' lever
Cons: Difficult pedalling at low rpm, requires calibration for accurate power measurement
6. Elite Turno
Compatible with wheel size 20″ – 29″
5.1 kg flywheel
650 W (at 40 km/h) braking performance
Comes with 12-month My E-Training access
Integrated Misuro B+ sensor
Elite Turno is a budget-friendly direct drive trainer that is super quiet. The slipping rear wheel is excluded to save power. Elite Turno has a 5.1 kg flywheel that uses fluid technology, which makes pedalling as you are riding on the road outside. There is an integrated Elite Misuro B+ sensor so you can connect your trainer with a smartphone or tablet. It is also compatible with a variety of bike computers. The fluid brakes have a self-adapting progressive resistance, which increases braking power at higher speeds. This progressive resistance also offers optimum conditions for training pedalling cadence, power, and sprinting.
The construction is sturdy, well-built, and the frame is foldable for easy transport. It is suitable for wheel size 20 to 29 inches. It supports both 130 and 135 mm hub widths for quick-release (5 mm) and with 142 x 12 mm thru-axle. Elite Turno comes with a free 12-month subscription to the Elite App My E-Training. This trainer is also compatible with all popular software like Zwift, TrainerRoad, Kinomap Trainer, and others. The data is transmitted via Bluetooth and ANT+. If you are in the market for an entry-level smart trainer, the Elite Turno is a great option to consider.
Pros: Quite, feels realistic, can be used inside an apartment without disturbing neighbours
Cons: Little information available regarding initialization of the included Misuro B+ device.
7. Elite Suito
Comes with a pre-installed Shimano 11-speed cassette
Wider support base with pre-assembled legs
Slopes up to 15% with ± 2,5% accuracy
ANT+ FE-C & Bluetooth
Free subscription to Zwift and My E-Training
Suito is a competitively priced direct-drive interactive trainer. It's ready to use out-of-the-box and comes complete with an 11-speed Shimano cassette fitted as standard. This is worth noting when comparing two similar priced units that don't include a cassette. I like that there's plenty of metal in the casing making it a notably robust feeling trainer. The Suito sits in the middle ground when it comes to weight at 14.5 kilos. The trainer is simple to set up. It is a case of folding out the legs, attaching the power lead, and the unit is ready for a bike to be attached. When folded, the unit is impressively compact and small enough to stick in a cupboard or under a bed.
I am also impressed that the adapters for 142-millimetre thru-axle come in the box as does a front wheel block for levelling things out. There's no need for any sensors because the Suito covers cadence, power, and speed. It's all easy and hassle-free. I also have no issues connecting straight to Zwift. The wide legs and weight do a good job of providing a stable ride once you start pedalling. The Suito offers gradients of up to 15%. This is 1% less than the Wahoo KICKR Core. I am sure for most in this market it will not be a deal-breaker. As you'd expect from a direct-drive trainer, the ride feel is good. The 3.5-kilogram flywheel helps with this but it is not as hefty as the Wahoo KICKR Core at 5.4 kilos.
Pros: Affordable, easy to use, stable
Cons: Not as quiet as some
8. Tacx Flow
Max Power: 800 Watt
ANT+ Connectivity, Bluetooth
Max Incline: 6%
Accuracy: less-than 5%
Magnets: 6
Flow Smart Trainer is an entry-level and budget trainer because you've got things like the Flux and the Neo that have come along and improved that premium experience indoors. Although this unit was out in 2017, it still supports everything that's popular today like ANT+ Bluetooth, reporting power, speed and cadence. The trainer goes up to 800 Watts for a few seconds in the sprint at about 40 kilometres an hour. It'll pack a punch of 750 Watts for a minute if you can hold that and a 6% grade simulation as well. It's kind of packing a punch mid-range when it comes to the hills. You're not going to get those steep pinches, but it's enough for a good training session.
The flywheel weight of this unit is 1.6 kilos with an effective flywheel weight of 11 kilos. Power-wise, the specification is less than 10%. Well, that means within 10% accuracy of a true calibrated and certified power meter. It also comes with a nice steel skewer. I highly recommend using those. Save the super-light race skewers for race day. But for training and just generally riding around on your bike, stick with the steel skewer. They won't bend or break.
Pros: Reliable power measurement, interactive resistance works with Zwift and other apps
Cons: Wattage reads a little high, louder than direct-drive
View at Wiggle View at Chain Reaction Cycles
9. Tacx FLUX S
1500 watts max resistance
3% power accuracy
7 kg flywheel
10% max incline
24.6 kg of weight
This is the trainer with direct drive benefits at a very competitive price. Out of the box, it needs some assembly. You need to slot the stabilising legs into the main body and bolt in place. It only takes a couple of minutes and an Allen key is supplied to make things easy. One of the downsides of this trainer is that it doesn't fold and requires a dedicated training room or space. Also, it lacks a carry handle and basic handholds, which makes it difficult to move. However, the trainer is good looking and it won't encroach too much within a multi-purpose room. The Flux S may be a good option for those who want a simplified introduction to the world of budget direct drive trainers.
Tacx FLUX S can simulate climbs of up to 10%. This might not be very impressive but for most people, this will be enough. It offers a max 1500 watts of resistance that is enough for most indoor riders. You can control both gradient and power settings by using the Tacx app through your smartphone. The ride feels pretty good and this is largely down to the 7.6kg flywheel. The resistance also feels good, especially when using Zwift and hitting the climbs. It is smooth and provides a great indoor training experience.
Pros: Stable, quiet, premium feel
Cons: Does not fold for storage, no carry handle
View at Wiggle View at Chain Reaction Cycles
10. Elite Qubo Digital Smart B+
Electric-motor resistance controlled by Zwift or TrainerRoad
Light and folds down
Can do ANT+ or Bluetooth
Relies on rider weight for tyre/roller contact
Elite Qubo Digital Smart B+ is an easy-to-use trainer and can make your indoor workouts much easier. It a simple to set up and suits a bike and ride with a good sense of quietness. The trainer is easy to put together and does not sound too bad. To assemble this thing, bolt the resistance unit to the base, plug it, and you are done. Smart B+ comes with a quick-release that allows you to connect your bike and trainer. It uses your body weight to make the connection between the bike and the elastogel roller. This enables you to get a tool-free adjustment. There is also a quick-release locking lever, which is great in this budget.
The trainer is pretty quiet. The company claims 50% less noise than a metal roller. You could easily use it in a spare room without disturbing other family members. If you could get a good quality mattress, it would help a lot. Remember, you will need to add a riser block as it does not come with one. The maximum resistance offered by this trainer is 1070 watts and max slope the trainer will replicate is 6%. The flywheel comes with it is not too big but manages to do a good job of smoothing out your pedal stroke.
Pros: Most affordable smart turbo trainer on the market, folds for storage, lightweight
Cons: Short power cord, inaccurate power measurement, a little noisy but manageable
11. Kinetic Rock and Roll Smart
Compatible with Kinetic Fit, Zwift, TrainerRoad
Pairs with devices using ANT+ or Bluetooth Smart
Compatible with ANT+ FE-C and Bluetooth FTMS communication standards
Frame fits 22-inch to 29-inch wheels
Large diameter roller for reduced tire wear
Kinetic Rock and Roll Smart comes pretty much preassembled. You just need to take it out of the box, put on both the legs, tightening those down, and mounting the bike with the supplied skewer. If you find the unit sways to the left or to the right, you can re-centre the bike. Now turn on the knob, once it's touching the tyre and three full rotations should give you enough resistance. For optimal performance, use the Tacx tyre at 100 psi. The assembly manual that comes with it is best I have ever seen for an indoor trainer. It is full of glossy and clear instructions to get you up and running straight away.
Rock and Roll Smart is essentially like other fixed wheel trainers but adds a novel suspension mechanism that gives the rider some freedom of movement in all directions. The trainer has a very large base to account for the extra instability introduced by this mechanism. The big footprint works well, and the trainer is quite stable but it will require a little more room than your standard trainer so be aware of that. There is an elastomer sandwiched between metal plates, which is then secured with some big carriage bolts. This mechanism allows the resistance unit and your bike to float to some degree. The amount of float you get is determined by how tight you set those carriage bolts, which means that it's user tunable. If you want the unit a little stiffer just tighten the bolts and vice versa.
Pros: Smooth and sustained 3d realism with smart upgrade capability
Cons: Bulky and heavy, not compatible with Pro Flywheel accessory
12. Bkool Smart Pro 2
Adjustable to wheels from 20 to 29
No calibration and assembly required
ANT+ and Bluetooth connection
Ability to simulate inertia
Bkool is a Spanish brand that makes some of the great trainers and Smart Pro 2 is no exception. It is a wheel-on trainer and it can produce resistance up to 1200 watts. The trainer also simulates gradients of up to 20%. To position your bike quickly, Smart Pro 2 comes with a quick-release skewer. There are two threaded holders, which allow you to adjust the back wheel position. You can purchase Bkool thru-axle converter if your bike has a rear thru-axle. It also comes with a front-wheel riser, so your frame is level.
Smart Pro 2 is consists of two main sections, the frame or wheel attachment section and the resistance unit. In addition to threaded holders, there is a power supply, a replacement spindle, front-wheel support, and a USB ANT+, which allows you to connect your trainer to a laptop or computer. There is also an instructions manual, which most people ignore. The trainer does not require calibration and you don't need to adjust the pressure of the resistance roller against your bike wheel. Most smart trainers are heavy but this one is very compact and pretty lightweight. It is not the lightest option but compared to other top-end models, it is very lightweight.
Pros: Simple to attach the bike, very straight forward to put together, reasonably quiet, lightweight
Cons: Thru-axle converter costs more, not direct drive
13. Wahoo KICKR Core
ANT+, ANT+ FE-C and Bluetooth connectivity
Features a 5.4 kilos flywheel
Belt motor drivetrain
16% maximum grade simulation
Thru-axle compatible
The Core is Wahoo's mid-price smart trainer that sits between their top-end KICKR and the budget-priced KICKR Snap. It has all the essential key functions you'd find on their top-end trainer, which makes it attractive if you're on a little tighter budget or want to spend on Wahoo's add-ons. It works directly with quick-release axles but it also comes with adaptors for thru-axles. There is no cassette or wheel block though you will have to add those on. Before you start, you will also need a cadence sensor as this unit does not transmit that information. To help keep the price down, the legs are fixed and you do have to bolt them on out of the box.
The 5.4-kilogram flywheel on the Core isn't as burly is that on the 7.3-kilogram KICKR. The heavier flywheel is designed to help with a better ride-feel but in reality, it is hard to actually notice a difference between the two. Ride setup is simple and only takes a few minutes through the dedicated Wahoo app. It is pretty quiet thanks to the belt motor drivetrain, which offers almost silent pedalling. However, the bike transmission makes more noise than the trainer. The setup is very stable even when you're working hard. Once pedalling, the power outputs are similar to those found on Garmin Vector power pedals. It offers a great deal even when compared to its more expensive Big Brother the KICKR. The Core is an impressive smart trainer and for many, the price will be a big pool compared to its main competitors.
Pros: Low noise levels, good ride feel
Cons: No cassette, not as compact as some, not very budget-friendly
14. Bkool Smart Air Lite
Up to 20% gradients and up to 2000 watts
Rocking System allows your bike to move slightly
ANT+ and Bluetooth compatible
Compatible with Shimano
Compatible with SRAM 7-11-speed cassettes
The Smart Air Lite is a more affordable version of Bkool's flagship direct-drive Smart Air. It competes with other mid-range trainers including Elite Suito, Wahoo KICKR Core, and the Saris H3. The trainer is designed to look like a bike with a wheel fitted. The design is taller than most and looks different whether it's large enclosed flywheel setup. Initial setup is easy and all you have to do is pull out to outer stabiliser legs. While it may be taller than many smart trainers, with legs folded the narrow design makes it easy to store. Plugging in the power is simple and there's plenty of length from the cable so you shouldn't need an extension lead.
Jumping on the bike, the degree of movement in the trainer gives a very different ride feel. The curved main tube of Air Lite that produces its kind of hanging design not only allows a certain amount of movement, the hands to the riding field but reduces the load and amount of stress on the bike. Once pedalling, the Air Lite is relatively quiet and the internals does a good job of making things almost silent. The unit is capable of replicating up to 2000 watts and speeds of up to 70 kilometres an hour so there's never a problem with running out of power or speed. With regards to power accuracy, Bkool says that the Air Lite has a margin of error of less than 3%.
Pros: Low noise, forgiving ride
Cons: Taller than many, rocking out of the saddle
A Guide to Budget Smart Turbo Trainers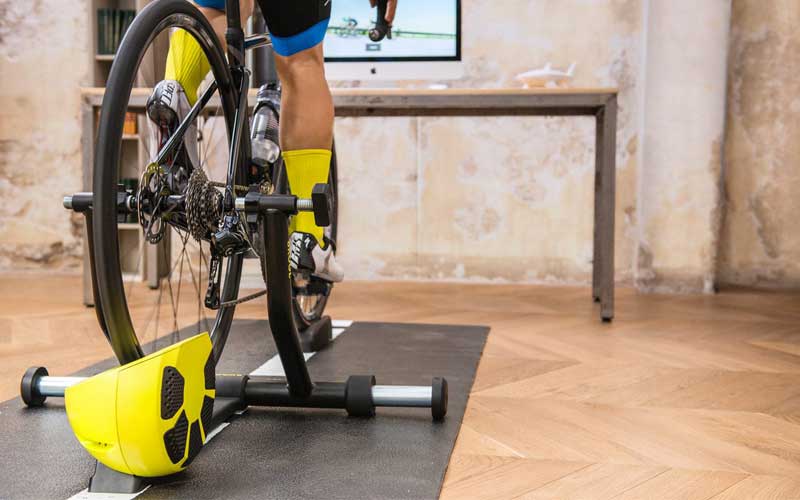 You worked hard for your fitness over the summer and it's a fall now and you're still riding. But winter is coming and it's going to be time to move indoor soon. The best way to maintain your fitness over the winter or to get a head start on your fitness towards the spring is to use an indoor trainer. Now an indoor trainer is a device that's the axis of a tripod. It's going to attach to the rear wheel of your bicycle. That's going to lift the rear wheel off the ground just a little bit and it's going to press a resistance unit against the tyre. That will give you a smooth and consistent resistance so that you can pedal and train indoors just like you would outside.
There are three basic types of indoor trainers. You've got magnetic, fluid and an interactive or trainer. I'm going to walk you through each one a little bit and just give you some idea of which one might be the right trainer for you.
Magnetic Trainers
The most basic type of trainer is going to be the magnetic resistance unit. It uses opposing magnets to create the resistance that's pressed against your rear tyre and makes it harder to ride. A magnetic resistance unit provides a nice consistent linear resistance that can be adjustable. Many magnetic trainers come with a handlebar-mounted remote that gives you multiple different levels of resistance. If you wanted to do interval training, you have that option.
Fluid Trainers
A fluid trainer uses a fluid resistance unit. It means that there's basically a fan that is sitting inside a heavy viscous fluid. When you turn the wheel, your bike spins that fan and the fluid creates the resistance. The main benefit of a fluid trainer is that you get progressive resistance. It means is that the faster your rear wheel turns the more resistance you get. You can essentially vary the level of resistance simply by shifting gears on your bike or by pedalling harder or softer.
There are three types of fluid resistance trainers. One uses a gravity stand and all you have to do is lock the rear wheel of your bike into the trainer. The weight of the bike and rider against the resistance unit puts the right amount of contact between the resistance unit and the tyre. On the other hand, there are also fluid trainers where you can manually adjust the level of resistance that is being put against your rear tyre.
If you like the idea of a fluid trainer and you're looking to step up to the next level, you could consider a fluid trainer like the CycleOps Fluid2. The first thing you'll notice about it is that the fluid resistance unit is much larger. There are a bigger fan and cooling vents. It allows for a much steeper power curve. If you're looking to do workouts that you know can be more challenging, the CycleOps Fluid2 would be a great choice for you.
The last type of fluid trainer that I want to address is the adjustable fluid. If you are a rider who loves precision and you've got specific workouts that you like to do and you want just a little bit more control than a standard fluid trainer. You can get a fluid trainer that has an adjustable resistance unit. This particular trainer gives you five different levels of resistance so that you can be much more precise with your indoor training.
Smart Trainers
The ultimate in indoor training is the smart trainer. This trainer uses a computer-controlled resistance unit that connects to a computer either a laptop or a desktop. A lot of people will then hook the computer up to a television. So you get not only the maximum level of control over the amount of resistance that you have but you can do extremely specific workouts. You can download and record all of the data from your ride. You can even ride simulated courses. Most smart trainers will come with and allow you to purchase additional video courses.
Additional Accessories
So now I have addressed the major types of trainers and you've got some idea of which trainer is going to be the best trainer for you. There are a couple of accessories that you ought to consider as well.
Now as I mentioned earlier the trainer is going to lift the rear wheel of your bike just an inch or two off the ground. It's pretty important to get a front riser block to lift your front wheel about the same amount that levels everything out.
Another nice accessory to have is the mat that the whole bike and trainer sits on. The trainer mat absorbs some of the sounds that a trainer makes especially if there's going to be anybody on floors beneath you when you're riding. A trainer mat is nice to have and it also keeps your floor clean of any sweat.
Most bikes will have a sweat net to keep the sweat under control. It looks like a pretty small thing but when you're sitting still, this does capture most of the sweat that you're going to drop. It protects your bike and your bike hardware from your sweat.
Best Budget Smart Turbo Trainers of 2021