Feet require the most care during cycling as they are the most important contact points. Keeping them comfortable means longer runs without problems. There are lots of options on the market to choose from. However, cycling shoes are anything but cheap. So, finding the right pair on a low budget can prove to be hard. This is true, especially for people who are either beginners or are just casually into cycling. But we have tried to solve that problem for you.
Whether you are looking for your first or fifth pair of shoes, here is the guide to choosing your perfect budget cycling shoes.
1. VeloChampion Elite
Upper:
Polyurethane
Weight:
300g
Sole:
Polymer composite
Shoe Closure:
Buckle strap
Cleat Fitting:
3-bolt, 2-bolt
The VeloChampion Elite is a very low priced option that is ideal for beginners. The shoe is a decent performer with a moderate level of comfort and stiffness which is expected for the price. However, they can perform above their price. The Elite features a composite polymer outsole that incorporates both, a three-bolt and an SPD cleat attachment. The upper material is made of very lightweight PU material which makes it soft but doesn't compromise on durability. The gloss finish repels grime and water as well.
The upper also has mesh panels and strategic perforated areas to keep the feet cool. Furthermore, vents have been incorporated into the outsole. The Waffle insole footbed creates cushioning which provides the utmost comfort. The upper also consists of a rachet system along with two Velcro straps. The ratchet system allows for micro-adjustments and the Velcro straps effectively secure the foot. However, the only downside of Elite is that it is very uncomfortable for walking, so much so that they don't even allow for 50 yards of walking. However, their cycling performance is adequate for the price being paid to buy these shoes. It is a good beginner shoe.
Pros: SPD/SPD-SL compatible, comfortable fit with Velcro and ratchet straps, easy to get on & off, can be used on smart trainers
Cons: Not suitable for walking.
2. Bont Riot Buckle

Upper: Anti-stretch Microfibre
Weight: 528g
Sole: GuardsReplaceable
Shoe Closure: Buckle and Velcro
Cleat Fitting: 3-bolt
The latest iteration of Bont's Riot shoe has the same stiffness and custom fit as the original Riot with a significant improvement in aesthetics. It features a carbon-enforced fibreglass tub that is stiff and also fits well. These are the cheapest heat-mouldable shoes on the market. The moulding process is easy and requires the shoes to be baked at 70°C for 20 minutes. They can be moulded an indefinite number of times if one is careful not to overcook them. After moulding, they can be tried on a trainer.
Riot is a very comfortable shoe to wear because it can be moulded exactly to one's need and can, hence, won't cause discomfort during longer rides. The toe box is wide which can feel different to people coming from Sidi's shoes.
The Riot features a 3-bolt system to attach the cleats which are nicely located under the ball of the feet. Attaching the cleats to the shoes is made easy due to a microgrid printed on the soles which makes it easier to make small adjustments than standard markings. The combination of Velcro and ratchet for the closure system works fine but the adjustments aren't as fine as they can be achieved on a dial system. For that, one would have to pay extra for the Riot+. Apart from the adjustment system, these are high-performance shoes at a good price.
Pros: Low weight, available in loads of sizes, good fit
Cons: Limited colour choices, the buckle and Velcro closure system is not very adjustable compared to rotary dials
3. Fizik Tempo R5 Overcurve

Upper: Microtex
Weight: 560g
Sole: R5 nylon composite
Shoe Closure: Dial
Cleat Fitting: 3-bolt
Fizik makes great-looking shoes. The Fizik Tempo R5 Overcurve offers a high-end look at a mid-level price range. It features a Boa IP-1 dial which allows for easy adjustments and a heel cup that offers exceptional stability. At this price range, these are a selling point for many. Tempo R5 Overcurve features a carbon fibre-reinforced nylon sole and a one-piece seam-free Micro-tex upper making it look twice the price it is. The soles are not the stiffest but still, they are plenty stiff. The comfortable fit also focuses on performance. The heel cup is excellent and keeps the feet planted in all situations.
The R5 also features a Boa dial and Velcro for an adjustment system. The Boa dial works wonderfully allowing for micro-adjustments. The Velcro strap, however, may not feel as tight as one would want it to be but it is a quick and easy system to use. It features a three-bolt cleat system and a collar that wraps the ankles for which the Overcurve stands for. But it needs to be kept in mind that the Tempo R5 is a narrow shoe which makes them ideal for people with narrow feet. If your foot is not the right shape and is wide, then you would have a hard time with these shoes. Overall, these shoes are excellent value for money.
Pros: Attractive, good fit, come in many colours and sizes
Cons: Lack of sole vents
See the Fizik Tempo R5 Overcurve
4. Pearl Izumi Tour

Upper: Seamless rubber/plastic
Weight: 504g
Sole: Nylon with carbon fibre
Shoe Closure: Laces
Cleat Fitting: 3-bolt, 2-bolt
Pearl Izumi Tour is another shoe on this list that looks and feels expensive but won't break the wallet just like the Mavic Cosmic Bao and the Fizik Tempo R5 Overcurve mentioned above. It is a wonderful blend of style, fit, and function. Izumi Tour is the laced version in the road line-up of Pearl just like all other brands have at least one laced shoe in their road line-up. Even though the market is dominated by Velcro, Boa, and other adjustment systems, laces still provide the best adjustability of them all. They stay for a considerable amount of time and are easy and cheap to replace.
The sole of the Izumi is made of nylon and consists of a carbon-reinforced plate for the cleat which has proved to be an effective combination. The sole is flexible making it comfortable while retaining stiffness where it is needed which is adequate for intermediate riders. The ventilation of the Izumi is also good at both, the upper and the sole. The upper is heavily perforated and stitch-free which also gives it an expensive look. The sole also supports both, two and three-bolt fitting with fore-and-aft adjustability. The sole also has a printed grid to help with micro-adjustments just like in the Bont Riot Buckle mentioned above.
Pros: Good stiffness, low weight, good venting, comfortable
Cons: The sole is a little basic.
5. Giro Rumble VR

Upper: Synthetic and Mesh
Weight: 425g
Sole: Vibram rubber
Shoe Closure: Laces
Cleat Fitting: 2-bolt
Giro Rumble VR is a good option if you are looking for an option that you can use for casual commutes on trails and tarmac. It is more of a leisure shoe that is comfortable and can be used all day. It is designed to be more walkable than the usual mountain biking shoes. The Rumble features a Vibram sole which has a shallow diamond thread in the middle and a more aggressive lined thread at the toe and heel. The sole is compatible with two-bolt cleats. The recess is deep and narrow which does make the clipping a bit tricky.
The upper of the Rumble is fairly light and has decent ventilation with a microfiber body and cloth mesh. It is easy to clean and requires a single brush after it is dry. The toe box is of a decent width giving enough space inside and the tongue is heavily padded. Having a lace mechanism means the shoe can be tuned to fit perfectly on the foot. It does require time to put it on and take it off. The upper of the shoe is quite durable and holds even after a year or so very well. However, the sole of the shoe does tend to wear off to the point where the cleat starts to touch the ground.
Pros: Grippy sole, comfortable, roomy but holds your foot well
Cons: Not very sturdy, the cleat area is a little complicated
6. Shimano RC5

Upper: Mesh/TPU
Weight: 504g
Sole: Nylon/carbon fibre
Shoe Closure: Dail
Cleat Fitting: 3-bolt
What makes Shimano RC5 great is that it is integrated with a lot of features from their S-Phyre Racing Shoes which are professional-level shoes. It is a light, secure, efficient, clipless shoe with a spectacular construction and attractive looks continuing the Japanese giant's reputation to make high-quality cycling shoes. The RC5 features carbon fibre-reinforced Shimano Dynalast soles which feel very stiff. The seamless midsole is the most notable feature as it reduces the weight along with the distance between the sole and the pedal. That soles also have large vents for ventilation.
The upper of the RC5 is made of mesh, synthetic leather, and polyurethane with many perforations on both sides for ventilation. The wraparound design is unique and makes it very easy to get on and off. The Boa dial and the Velcro strap make it plenty secure and the shoe has great comfort. The sole supports a three-bolt cleat with an unusual centimetre of fore-and-aft adjustment for the perfect setup. The adjustments in the fit and the cleat to match perfectly with the rider's style are something of a selling point. Overall, the shoe is of good quality as well. In short, the rider gets a lot more than a shoe for the money.
Pros: Waterproof upper, stiff sole, aesthetics
Cons: The white colour is difficult to clean.
7. Mavic Cosmic Boa

Upper: Single-piece
Weight: 514g
Sole: Nylon and fibreglass
Shoe Closure: Dial
Cleat Fitting: 3-bolt
If you are looking for an elegant pair of cycling shoes that is performance-oriented, then perhaps, the Mavic Cosmic Boa is just for you. This is one of those products which look and feel expensive but are not that expensive just like the Fizik Tempo R5 Overcurve mentioned above. Cosmic Boa features a nylon fibreglass Energy Comp sole which measures 50 out of 100 on Mavic's index of energy transfer. For an intermediate rider, it is plenty stiff and feels like energy is not wasted. There is a bit of spring in the sole but that can only be felt if the shoe is manhandled.
Cosmic also features a single-piece upper which is very breathable. There is sufficient padding inside the shoes which further adds to their comfort. The close-fitting of the upper also helps with efficient energy transfer. The upper also features more than 100 laser-cut perforations along with two sole vents. The elegant look of the upper is partly due to the single Boa design without any added Velcro or straps giving it a sleek design along with an excellent fit. Mavic also offers a less expensive Velcro option which is not recommended. The sole of the Cosmic Boa features three holes for three-bolt cleats.
Pros: Stylish look, comfortable, excellent performance
Cons: Mavic shoe sizing is close-fitting so up a size than your usual size.
8. dhb Trinity Tri

Upper: Synthetic
Weight: 652g
Sole: Nylon
Shoe Closure: Velcro straps
Cleat Fitting: 3-bolt, 2-bolt
dhb Trinity Tri is made for athletes who are looking for performance and comfort at an affordable price. It is one of the most affordable tri shoes but one of the heaviest as well. The sole of the Trinity Tri is its stand out point. The sole, although made from nylon, is great for beginners. It is, however, not as stiff as carbon fibre. The sole supports a three-bolt cleat. The upper uses a Velcro system with a wide strap that provides stability to the foot and a smaller strap on the toe box to provide a tight-fitting for a secure fit.
The upper is quick-drying using quick-drying mesh as a part of the construction. However, its biggest criticism also arises from the upper. The upper is thick which does not make it a great fit. Furthermore, the main strap is not wide enough near the buckle which makes it prone to slip out. However, the foot entry is comfortable and the heel loop is great.
Pros: Durable, rugged, great value
Cons: Limited colour and feature options
9. Scott Road Comp Boa

Upper: Polyurethane, 3D Nylon Airmesh
Weight: 604g
Sole: Sticki Rubber
Shoe Closure: BOA L6
Cleat Fitting: 3-bolt
The Road Comp line from Scott is an amazing line with great articles. Scott Road Comp Boa is the lowest priced featuring a BOA dial. It is an affordable shoe with a nice blend of comfort and performance. In addition to BOA, Road Comp also comes with laces if you are looking for an alternate fastening system. There are also two women's versions available which weigh and cost less. Road Comp features composite injection nylon and fibreglass sole having a three-bolt cleat fitting with decent fore-aft adjustment. The sole has moderate stiffness which translates to a decent power transfer with a little bit of flex.
The upper uses synthetic leather having Scott's Wrap Fit design. It has a single forefoot seam in front of the ball of the foot supported with a Velcro strap. The toe box contains three 3D Nylon Airmesh with perforations in the toe box and both sides of the shoe. The heel is covered with a stiff heel cup making it slip-free for pedalling. The slim ErgoLogic insole gives good arch support. It lacks the stiffness of a race shoe but it is adequate for daily riding. The BOA dial gets harder to turn the tighter it gets but does secures well. The reinforced tongue prevents pressure from the cord.
Pros: Comfortable, good fit and performance
Cons: BOA Fit System can be difficult to tighten.
10. Sidi T-5 Air Triathlon

Upper: Politex
Weight: 550g
Sole: Nylon/carbon fibre
Shoe Closure: Velcro straps
Cleat Fitting: 3-bolt
Sidi T-5 Air Triathlon is a shoe for those who are looking for a solid performer without the fancy stuff. It may not have the features of other shoes on the market, but its strong point is its amazing fit that feels more like a road shoe than a tri shoe. The T-5 features a carbon composite sole with carbon fibre inserts which reduces weight without compromising on stiffness. The sole supports three-bolt cleats with a scale for correct positioning. On the rear of the shoe, the reinforced heel cups hold the foot in the optimal position.
The upper is made from breathable synthetic polyester material. The durability of the T-5 is just exceptional and it will stay with you for years without causing any issues. The quality is excellent, it's a Sidi after all. The break-in period of these shoes is about 150 miles after which they will fit you well. Even though it has a Velcro system, it still secures the foot effectively. The T-5 is for casual athletes who are looking for a good pair on a reasonable budget.
Pros: Adjustable, good fit, great value
Cons: Limited colour options, not very budget-friendly
See the Sidi T-5 Air Triathlon
Best Budget Cycling Shoes: Comparison Table
| SHOE | UPPER | WEIGHT | SOLE | CLOSURE | CLEAT |
| --- | --- | --- | --- | --- | --- |
| VC Elite | Polyurethane | 300g | Polymer composite | Buckle strap | 3 or 2-bolt |
| Bont Riot | Microfibre | 528g | Fibreglass | Buckle/Velcro | 3-bolt |
| Tempo R5 | Microtex | 560g | R5 nylon | Dial | 3-bolt |
| Pearl Izumi Tour | Rubber/plastic | 504g | Nylon/carbon fibre | Laces | 3 or 2-bolt |
| Giro Rumble VR | Synthetic/Mesh | 425g | Vibram | Laces | 2-bolt |
| Shimano RC5 | Mesh/TPU | 504g | Nylon/carbon fibre | Dail | 3-bolt |
| Mavic Cosmic Boa | Single-piece | 514g | Nylon/fibreglass | Dial | 3-bolt |
| dhb Trinity Tri | Synthetic | 652g | Nylon | Velcro | 3 or 2-bolt |
| Comp Boa | PU/nylon | 604g | Sticki Rubber | BOA L6 | 3-bolt |
| Sidi T-5 | Politex | 550g | Nylon/carbon fibre | Velcro | 3-bolt |
How to Choose Cycling Shoes?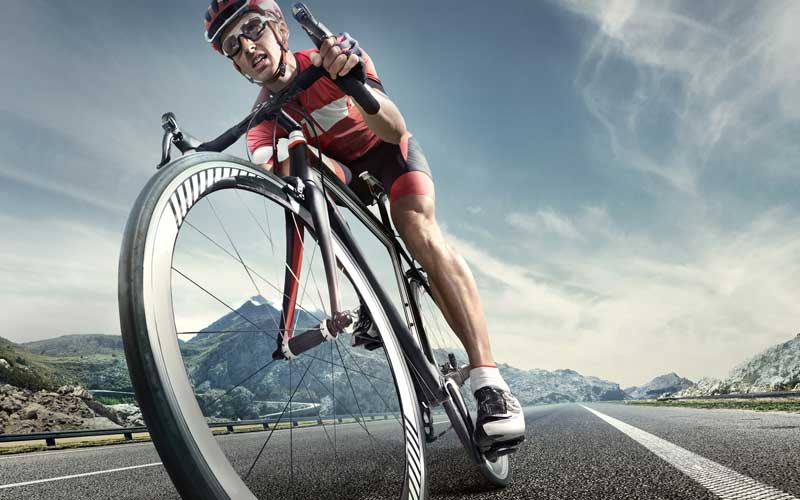 Although cycling can be done in any shoe, shoes specifically made for cycling do a better job of providing comfort and stability during cycling. Cycling shoes have soles specifically designed for efficient energy transfer during pedalling. For efficient power delivery, clipless pedals were introduced some 30 years ago, the idea being borrowed from the world of skiing. A small plastic cleat is attached to the sole of the shoe with two, three, or even four bolts to engage with specific pedals keeping the foot in the optimum position and allowing for better power transfer.
It requires a simple twist of the foot to unclip the foot from the pedal. The term "clipless pedals" can be confusing if you are a beginner because you have to clip your feet onto the pedal. The pedals are called "clipless" because they don't have toe clips or straps. However, you can still get cycling shoes with toe clips or straps. Yes, it sounds confusing all of this and makes you wonder about how to choose cycling shoes, and then we can help you make the right decision. Here are a few tips which can help choose the right pair for you.
Types of Cycling Shoes
The kind of shoes you are going to get for cycling depends on the kind of cycling and the kind of circumstances you will be up against. Different types of shoes specialize in different types of circumstances to make it easier for you to get through.
They allow having different cleat system which includes 2, 3 or even 4 mount points. The structure of the shoes depends on the kind of cycling as well. Some are specialized for cycling making them ideal for professional cyclers and others can be used for walking around as well.
There are several different types of clipless pedal systems on the market. It should be kept in mind that cleats and pedals are not interchangeable. Pedals with a certain system must be paired with cleats of the same type, for example, if one is buying Speedplay pedals, one must get Speedplay cleats. Further details are as follows.
For Road Cycling
Road cycling shoes do not come with rubber soles. Instead, they come with either composite, nylon, or carbon fibre soles. These soles are slightly protruded outwards making the cleat a bit more exposed. They are designed for maximum performance allowing for efficient delivery of power through the pedal.
These shoes commonly have three threaded holes or four-bolt drilling to accept the corresponding types of cleats. The stiff protruded soles along with exposed cleats mean they are not ideal for walking. The best you can do is walk to the garage, or make brief stops. Dragging your cycle if it gets punctured can be very uncomfortable in these shoes.
But you can don't necessarily have to get performance shoes. If you intend to wear your shoes for further use, say, shopping, then there are shoes available that look just like common shoes with rubber soles but have recessed cleats.
For Commuting
The goal of commuting shoes is to maintain a balance between pedalling efficiency and off-bike comfort. These are designed to combine street shoe flexibility and stiffness of a road shoe. These are styled to look more normal than sports cycling shoes.
These shoes mostly come with cleats attached with two bolts. The benefit of a two-bolt pedal system is that they are two-sided making it easier to clip and unclip from the pedals if stuck in traffic. There are also pedals available with a cleat retention system on one side and a flat pedal on the other allowing for cycling without the need to change shoes.
Mountain Biking Shoes
Shoes for cycling in the mountains share the same two-bolt system as most commuting shoes do. They also share the same design aesthetics as commuting shoes. The only difference is that these shoes have more aggressive threads for more grip.
For racing, however, these shoes may consist of stiffer carbon soles as efficient power delivery is a priority. Some beginners use flat pedals which allow them to use any kind of flat shoes. Flat shoes are quicker to get off the pedals than clipless shoes which help in avoiding crashes to which beginners are more susceptible.
For Winter Cycling
As the name suggests, these are shoes that are used to keep the feet warm and dry. They come with three-bolt and two-bolt systems. Many of these shoes employ some kind of moisture-wicking technology to keep the feet dry like Gore-Tex.
Women Shoes
These shoes are made specifically for women as there are minor physiological differences in the feet of men and women. Women usually have narrower heels than men and so the shoes designed for women have less height between the sole and the upper. Women also tend to have smaller feet than men so their shoe sizes are accordingly made.
Best Budget Cycling Shoes of 2022