Shoes are a requirement for many activities. Whether you are running, training at the gym, going for a walk or just casually hanging out with your friends, shoes are essential to your attire. Surprisingly, they are not only worn to look good but to keep your feet protected.
When you go out in the market, you hear terms such as training shoes, running shoes, walking shoes, etc. But are they really different? Is it necessary to have a different shoe for every activity? The answer is simple. Each shoe has been designed to keep in mind the features and functionalities of the particular activity.
Training shoes designed to keep indoor activities in mind. They are created by looking into the needs of weight training, basketball, kickboxing or any aerobic exercise that involves side to side movements. However, walking emphasizes front to back movement. Trainers have wide soles to provide more stability and tread with extra grip. If you're in both walking and training, it's smart to have a different pair for each activity.
Many people tend to use one kind of shoe for all activities. While this may be okay in some situations, but not in all cases. For example, when you use training shoes for walking, you put yourself at a higher risk of slipping or injuring yourself and vice versa.
See the Best Walking Shoes See the Best Training Shoes
There are some things that need to be considered when discussing this topic. These are:
How to choose walking shoes
Things to know before buying training shoes
The landing of the feet
The soles
Flexibility
Ankle support
Different types of walking
The things mentioned above are the differences that are seen in the two activities i.e. walking and training. We will discuss all these in further detail.
1. How to choose walking shoes
In order to select the right shoe, it's important to understand the anatomy of a walking shoe.
Upper
The upper is often made of synthetic material or leather. Many feature nylon or mesh that offers lightweight breathability.
Toebox
The toebox is at the top end of the forefoot. Make sure you have about half an inch of room between your toes and the end of the shoe for a proper fit.
Footbed & Insole
That's where your foot rests. Footbeds can provide cushioning, shock absorption and arch support. If you have a custom orthotics, look for shoes that have removable insoles so you can replace them with your own orthotics if needed.
Outsole
The outsole is the bottom of the shoe that comes in direct contact with the ground. There are many different types of treads and outsoles to choose from. Walking shoes generally have a wider base for lateral and structural stability. A more flexible outsole provides extra grip to keep you steady as you walk. A durable outsole stabilizes the foot through the natural walking gait.
Midsole
It sits between the upper and the outsole. Depending on your arch type, you'll want to choose a cushioning or firm midsole.
Know your foot type
Most feet can be classified into three basic types based on the height of your arches.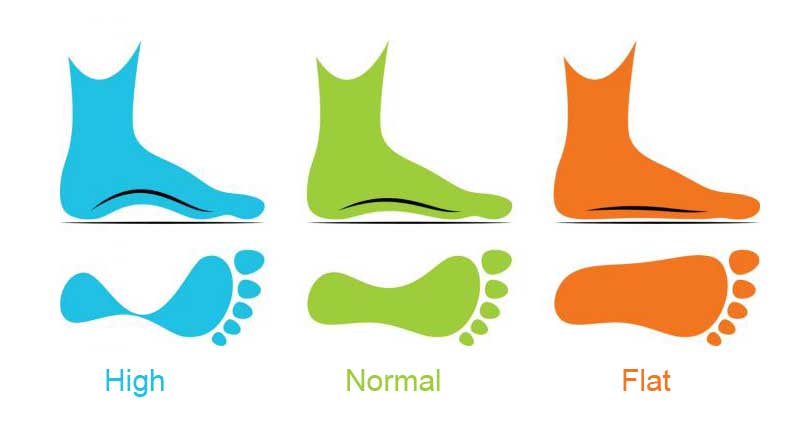 High: Look for shoes with cushioned midsoles, shock-absorption and motion control.
Normal: Try shoes with firm midsoles, cushioning and stability.
Flat: If you have flat feet, we recommend shoes with firm midsoles, motion control, and increased stability.
Not all walking shoes are created equal so you'll want to find the fit, features, and style that are right for you. All walking shoes eventually show signs of wear and tear. Even if they're still comfortable, they might not provide enough support for shock absorption. We recommend you replace your shoes every 500 miles. That's about six to nine months or when you can see the outsole starting to break down.
2. Things to know before buying training shoes
Following are a few things that you should keep in mind when getting a new pair of training shoes:
Lockdown and Lateral Support
You're getting training shoes to do a bunch of different things. Whether it's cross-fit, high-intensity workouts or strength training, some people even play basketball in some of their training shoes. So when you're trying these things on in the stores or you're looking online, pay close attention to lock and lateral support, look at the different comments, the reviews that's been getting, etc.
Don't pay up for the latest models
You don't necessarily need to spend up for the latest models from Nike or Reebok because a lot of time these are just iterative updates that barely add anything from the older models.
Tread
It's a feature that often goes overlooked with training shoes. You're getting these shoes to do a lot of things and you'll be using these on a lot of different surfaces. So pay attention to the tread.
3. The landing of the Feet
While training, some exercises make you put your weight onto the toe, while others focus on the heels and the rest may involve lateral movement. This is why training shoes come with cushioning throughout the shoe so that no matter where you apply the weight, your foot is safe. As opposed to this walking shoes have more cushioning in the heel area as that is where we tend to concentrate our weight. Training shoes may cause difficulty as they are heavier due to the cushioning.
4. The Padding of Soles
This is quite similar to the cushioning. The soles for training shoes are thicker as compared to walking as training is a higher impact activity than walking. This adds to the weight of the shoe and a person may wobble while doing their normal chores.
5. Amount of Flexibility in Shoe
Shoes designed for walking are more flexible as the shoe basically rolls the foot by first putting pressure on the heel and using it to move the toe region. When walking while wearing training shoes, you get limited by that and that can cause an injury in extreme situations.
6. Ankle Support Provided
Training shoes have more ankle support while walking shoes do not. This may be a positive as it helps with putting the foot down more firmly on the ground.
7. The Different Types of Walking
There are different kinds of walking. The question arises whether training shoes can be used for all or not. As mentioned above there are situations in which a training shoe can work for walking purposes and in others, it won't. So we have mentioned the different types of walking below to let you know what are the exceptions.
Causal Walking
For casual walking, you can pretty much use any kind of shoe. So long as the shoe is comfortable and provides adequate support to your heel, any kind of shoe works. Although still, it is a good idea not to prefer training shoes for this if given the choice.
Race Walking
For race walking, training shoes are a big no-no. They just do not work. For this activity, you need flexible shoes and training shoes do not provide that amount of flexibility. It is a good idea to either get lightweight walking shoes or running shoes for this purpose. Training shoes will make you lose your balance and may lead to a big injury as well.
Marathon Walking
Now, this involves both running and at times jogging. You need a running shoe for this. There is no alternative. This is because the shoe would stay on your feet for a long time and it needs to be light in weight. Training shoes due to their cushioning are not.
Hiking
This involves all kinds of terrains, rough and smooth. Training shoes do not work as they do not have treads under the outsole. They are also padded from all areas that may cause problems for this activity. Hiking is definitely not a sport where you can risk going with any kind of shoe.
Final Verdict
The verdict is quite a clear cut. For casually walking it is okay to wear training shoes, it is the only exception of the list. However, we must keep in mind that there is a lot of research that goes into creating a particular shoe and that is why we must wear the shoe that has been specifically designed for any activity. It really is better to be safe than sorry.
Can Training Shoes be Used for Walking?