The benefit of an E-bike and E-mountain bike is you can climb to the top of the mountain with very little effort and then come down. You can also get a whole lot more riding in than you can on just a regular mountain bike. So, if you are interested to learn a little bit more about these full suspension E-mountain bikes and want to see what kind of budget options are available, you are at the right place. When I say budget here, I am talking about bikes under or around £5,000. In my opinion, this range covers the most entry-level and even mid-range bikes.
So these are the top entry-level and budget E-mountain bikes that you can purchase without breaking the bank.
1. Vitus E-Sommet VR
Frame:
Aluminium, 167mm Travel
Motor:
Shimano STEPS, E8
Battery:
Shimano E8035, 504Wh
Computer:
Shimano E7000
Spoiler alert, this bike is pretty special. The second generation of the Vitus e-bike the original MBR magazine praised with a perfect 10. Combining aggressive geometry, confidence-inspiring handling, and a relatively lightweight, this bike was a real bargain. Over three years later we now have a refined clean-cut piece of machinery that appears to have ironed out the few imperfections found on the previous model. It may be a little more expensive but while still fulfilling the value end of the e-bike market. can this bike still maintain that 10 out of 10 status?
One of the most exciting upgrades is the new Shimano EP8 motor. This is the replacement for the old E8000. I had ridden it before in the Canyon Spectral on and one of the first things I noticed was just how smooth it was when you compare it to the old E8000. It's more of a sort of surging smooth power delivery something which I'm growing to like. But don't be too put off because I know that the Shimano is often coming at the bottom of quite a lot of group tests. But to me, it's just a different way of delivering power. It doesn't feel as punchy as perhaps a Brose motor and it's not that much down on torque. It's going to be interesting to see how the motor gets on as time goes on. But so far, I'm impressed and it's an upgrade from the old E8000.
Finally, the app. I've played around a little bit with the app and there's a lot more adjustment, there's a lot more presets, and one thing that I like is you can play around with the power delivery. So the summary is a silky smooth drive character, quick acceleration in boost, and plenty of adjustments to play around with.
What I like: Good value, excellent suspension performance, premium quality Maxxis tyres, and gravity-centric e-bike
What I don't like: Average built quality, may need a mechanical check so make sure you check everything before riding
2. Nukeproof Megawatt

Frame: Alloy, 170mm Travel
Motor: Shimano STEPS, EP8
Battery: Shimano E8036, 630Wh
Computer: Shimano EM800
The Megawatt is the Nukeproof's first-ever E-MTB. Nukeproof has taken a few years to jump on board the E-MTB bandwagon and I'm really happy they've done that because Nukeproof took a few years to design and develop something that not only looks good but it handles the terrain well too.
Now it's hardly surprising that a Nukeproof handles rough terrain especially one with the mega name attached to it. The Mega Enduro bike is probably one of the best-selling and one of the most competitive and race-winning in the market today. So, for Nukeproof to create an e-bike and base it on the mega seems like a winning combination.
The Megawatt comes in three build options; Megawatt Factory, Elite, and Comp. Each of these comes with the same aluminium frame and mullet. You have a 29 inches wheel on the front and a 27.5 inches wheel on the rear and each one uses the same Shimano motor and battery system.
Nukeproof is offering the Megawatt in five different sizes. We've got small, medium, large, XL, and XXL. Small and medium-sized bikes have a 77.5-degree seat tube angle and a 64-degree head tube angle whereas the large XL and XXL bikes have a 78-degree seat tube angle. I'm 178cm and normally I would have gone for large but here, I chose medium and worked quite well for me.
On my first ride, it felt a little bit compact but descending, the actual shorter reach makes it a little bit easier to chuck around corners especially considering the weight. Being an aluminium bike with a big battery, it isn't a particularly lightweight bike. It's not overly heavy but you do notice the weight if you have to lift it over a fence or if you're lifting it into the back of a van.
What I like: Great geometry, good handing, and excellent suspension
What I don't like: Feels heavy and bulky, rattle from the EP8 motor when not pedalling
3. ESKUTE Voyager

Frame: Aluminium Allot 6061
Motor: Bafang 250W Brushless
Battery: 36V 12.5AH, 480Wh
Computer: LCD Digital Panel
ESKUTE Voyager is not really a budget-friendly E-MTB but it's worth mentioning because it's something, good, reliable, good battery, and has plenty of power at an affordable price. This is a trail style bike and one of two e-bikes that ESKUTE currently produce, the other being the Wayfarer, which is a city e-bike. Unlike the Wayfarer, it doesn't have all the extras that the city bike has like a rack and a rear light and an adjustable handlebar stem but it does have a big upgrade in the form of battery. It has a big lovely removable 480Wh battery. It's an in-frame battery that is solidly built and very well integrated into the frame.
The Voyager keeps some of the great features such as the 250W brushless rear hub motor. It's the same motor as on the Wayfarer. The bike also comes with a Shimano 7-speed gearing, very powerful front LED lighting and a very useful kickstand. The Voyager is more of a trail bike rather than a full-on dedicated mountain bike. This bike is more suited for trails such as canal towpaths and rail paths. I did manage to take it out on a big variety of trails and tested it on quite a several hills. There are plenty of trails that a cheap electric mountain bike like this will allow you to ride.
So let's see how the Voyager does manage on all these tracks and trails I tested it on.
The Voyager was sparkly fast and comfortable to ride on and off-road. It didn't matter whether it was on poor quality minor roads or faster main roads. The motor power soon got you up to speed and it was nice to ride beyond the cutoff limit of 50 miles an hour when the motor power cut out.
Off-road, it could handle a wide range of trails, easy trails from flat grassland up to canal towpaths with plenty of comfort from the front suspension and wider tyres to go confidently. A step up in performance was required for bumpier and slightly harder to ride country lanes but the Voyager took it all in its stride. I found that the Voyager is ideal for exploring country tracks and trails where city e-bikes and even some hybrid designs with narrower tyres might struggle.
What I like: Plenty of torque, Bafang motor, removable battery
What I don't like: Heavy, some components feel cheap, slightly expensive
4. Decathlon Stilus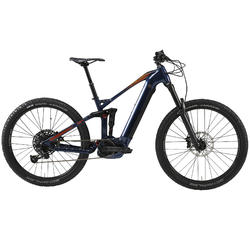 Frame: 6061 aluminium, 150mm
Motor: Bosch Performance Line CX
Battery: Bosch generation 4, 500Wh
Computer: PURION
Decathlon Stilus is an incredibly inexpensive electric mountain bike which is just blown everything else out of the water when you look at what you get value for money-wise. With this bike, you get an aluminium integrated e-bike based around the newest Bosch generation 4 motor with a 500Wh internal battery that can also be upgraded to the bigger 625Wh battery. You also get ROCKSHOX 35 fork at the front with 160mm of and travel 150mm of travel on the rear, SRAM SX drivetrain, SRAM Guide RE, SCHWALBE Smart SAM 27.5 x 2.6 tyres, and much more all at a very affordable price.
The bike has a Bosch generation 4 motor and a 500Wh battery. This is the latest Bosch motor and it's the same motor that you get in high-end £10,000 bikes. It's got a 12-speed cassette and it's got SRSM Guide RE brakes. Even the wheelset is fairly decent. The 36-millimetre internal width Sunringle Duroc rims have aluminium hubs and steel bearings and BOOST thru-axles. They're already tubeless-ready and tape from the factory. You just need to buy some tubeless valves. Although the stock tyres are not rated for tubeless, mine sealed up the first time without any issues. The tyres don't offer the best braking grip or traction for more aggressive trail riding so whilst rolling resistance is low you pay the price when you need outright grip.
The battery is fully integrated and it locks in with a key. I'm not a big fan of keys but loads of e-bikes use them and it's easy to take out. There is space for a 625Wh battery in there and that's official from Decathlon. Getting the battery out is simple and there's no messing around with like Allen keys or bolts. Speaking of charging the battery, it comes with a 6A fast charger.
What I like: Comes with a 6A fast charger, 12-speed drivetrain, strong 4-pot brakes
What I don't like: Slightly old-school geometry, long chainstays reduce manoeuvrability
5. Voodoo Zobop E-Shimano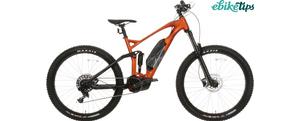 Frame: Voodoo aluminium, 140mm
Motor: Shimano STEPS, E7000
Battery: Shimano STEPS BT-E8010, 504Wh
Computer: Shimano SC-E7000 STEPS
Voodoo Zobop E-Shimano is one of the cheapest full-suspension E-MTB on the market. This bike features Shimano STEPS E7000 motor, a great suspension, and a 504Wh battery that can be removed for charging indoors. So is this bike really worth the money? The answer is yes. You can get this bike directly from Halfroads, which is the official Voodoo bike distributor here in the UK. The Zobop is a very fun bike in this price range, however, you may need to upgrade a few parts that will cost you some extra money. For example, the stock disc brakes (Shimano Altus BR-MT200) are woeful. This bumps the price but it's worth spending that extra money.
Apart from the brakes, I had no issues with any parts of the Voodoo Zobop. The wheels are sturdy and the tyres are wide enough for most trails. The bike also features an 11-speed drivetrain that never misses a beat. The battery is fixed and it doesn't rattle while riding and it is very easy to remove for indoor charging. The saddle is comfortable and the 45mm stem is a great length. The RockShox Monarch RT rear shock works great in partnership with the suspension linkage. Overall, this is a good bike. It doesn't have any standout features and needs some parts replaced, but still, it provides great value for money and won't regret buying it.
What I like: Provides good value for money, very capable and fun to ride
What I don't like: Brake pads need to be replaced, limited dropper post travel due to seat tube kink
See the Voodoo Zobop E-Shimano
Best Budget E-MTBs: Comparison Table
| BIKE | FRAME | MOTOR | BATTERY | COMPUTER |
| --- | --- | --- | --- | --- |
| Vitus E-Sommet VR | Aluminium, 167mm | Shimano STEPS, E8 | Shimano E8035, 504Wh | Shimano E7000 |
| Nukeproof Megawatt | Alloy, 170mm | Shimano STEPS, EP8 | Shimano E8036, 630Wh | Shimano EM800 |
| ESKUTE Voyager | Aluminium Allot 6061 | Bafang 250W Brushless | 36V 12.5AH, 480Wh | LCD Digital Panel |
| Decathlon Stilus | Aluminium, 150mm | Bosch Performance Line CX | Bosch generation 4, 500Wh | PURION |
| Voodoo Zobop E-Shimano | Aluminium, 140mm | Shimano STEPS, E7000 | Shimano STEPS BT-E8010 504Wh | SC-E7000 STEPS |
How to Choose an Electric Mountain Bike?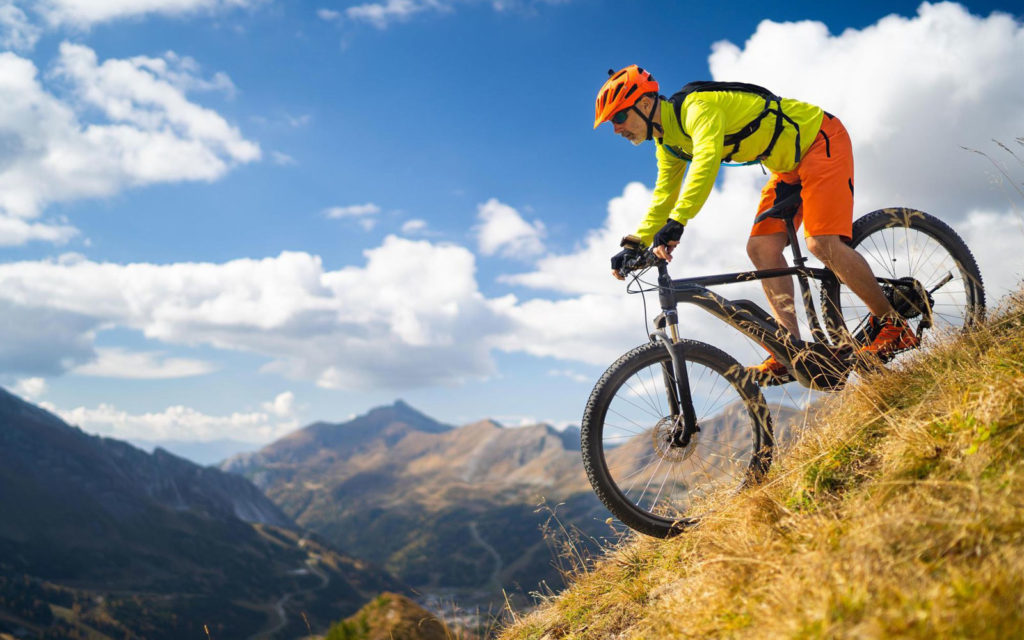 Buying your first e-mountain bike can be difficult because there are too many options to choose from. Bikes also feature a lot of different specifications like motors, batteries, wheel size, frame material, or things like, hardtails and full suspension. All of these things can easily overwhelm you so that's why I put together this guide to help choose your first e-MTB.
What is an E-Mountain Bike?
So, a good starting point is what exactly is a mountain bike? Well, it has grippy tyres, terrain-specific gearing and components and usually comes with suspension on the front and sometimes on the rear. It's often used in places other than in the mountains but with the capability of getting to seriously out of the way places when needed.
Now, what is an e-mountain bike? Well, there's only one or maybe two things that distinguish MTB from E-MTB; a motor and a battery that means they are capable of far steeper hills than mountain bikes and also you can decide just how much effort you put into your ride.
The main thing to remember with e-mountain bike folks is that you still have to pedal and normally, there is a controller up on the handlebar, which lets you decide just how much effort you want to put in. To be confused with the more general electric motorcycle. An e-mountain bike has a motor that assists you rather than a throttle which makes it more akin to a motorcycle.
Intended Use
If you're riding some of the easier waymark trails, then a bike with only front suspension will probably be as fast as a bike with front and rear suspension.
So, what do you need your e-mountain bike for? Well, these bikes are best suited to off-road riding and this can even involve some serious out of the way off the beaten track terrain. The type of bike you buy should suit the type of terrain you intend to ride.
Should you be riding to work on roads or cycle paths? You can do this on an e-mountain bike but many brands offer city, fitness, gravel, road, and tracking style e-bikes. As mentioned earlier, don't confuse an e-mountain bike with a more general electric motorcycle because many amazing electric bikes are largely used for commuting.
Motor
For off-road use, mid-drive motors are the preferred choice. This is primarily because of their ability on climbs, the balance they provide in the centre of the bike, and the integration into the frame. There are several key mid-drive motor manufacturers and in alphabetical order:
Bafang
Bosch
Brose
Panasonic
Shimano
TQ
Yamaha
They all come with a warranty and do not require any maintenance. Many motors will last for up to 1000 charges which equate to about 30000 kilometres. Should there be any issues and will not hide the fact that many brands have had teething issues expecting a maximum turnaround of about 10 to 14 days.
The power of e-bike differs. Although in general, they're not that dissimilar. Torque gives you a useful idea of the bike's power although think of your e-MTB as a system and not just the motor. After all, it's pointless having a powerful motor with a poor frame. Torque numbers will range from 35 Nm up to around 120 Nm. The key point to understand here is that more torque usually equates to more battery consumption and therefore you'll require a larger battery capacity for the same range.
When it comes to the motor that powers your bike, there are two distinct options; lower-powered and higher-powered motor. The question you need to ask yourself here is: Are you prepared to put in that extra effort to propel that lower-powered bike up those climbs or do you want the full-powered bike that's going to become better when it comes to those full-on technical climbs?
We mustn't forget that there are also many hub drive hardtail bikes on the market that are around £1000, which are great options and I have ridden these in some amazing places. However, they are not as proficient in tough conditions as those mid-drive motors.
Battery
Battery capacity ranges in sizes from 500Wh to 700Wh monsters. This capacity generally means the bigger the battery the more range you will get in certain situations. Most e-bike batteries are internally mounted on the frame meaning you can take them out fairly easily on most models but some require a little bit more work. Motors such as Shimano and specialised bikes have incredibly detailed apps which accompany the bikes giving you an immense amount of data and information. You can also customize the tune of the motor within this too.
Lower price e-MTBs often come with lower capacity batteries. But most e-MTBs today will have a battery of between 500Wh and 700Wh. They are capable of up to 1000 charge cycles or more. The bottom line is your bike will probably fall apart before the battery does.
Display
The display on your handlebars is going to give you a wealth of information from how much battery you've got left on your bike to how far you've ridden and how fast you've been as well as a host of other information. The size of these units can vary massively in terms of how big they're going to be on your handlebars. You can get big dashboards in front of you where you get very minimalistic and stealth options too which have no display whatsoever. It's just a small thumb control. The question you need to ask yourself is how much information do you want in front of your face?
Frame Material
Many people think that carbon fibre bikes are better than alloy ones but they simply give different ride characteristics. The bottom line is carbon is not a better product it's simply a different one that happens to be more expensive.
Sizing
Sizing is very important and you have to get the right size for you. If in doubt, get a second opinion with a brand direct.
What you are currently riding or what you might have ridden in the past might affect your feelings on sizing. My advice on sizing is to make sure you're getting the advice of a proper expert.
There are loads of inconsistencies in the mountain bike industry when it comes to the right size bike for you. However, many brands such as Canyon will give you a good idea of what size bike will suit you and you can look at those numbers on their website. However, if you are in-between sizes which most people are, I would recommend you go for the slightly larger bike because you can adjust the fit of your bike by such things as moving the seat forward or putting a slightly shorter stem on your bike.
Spare Parts
You also need to have a serious think about the upkeep of your bike when it comes to replacing those components because that can become very expensive. Parts such as the drivetrain, the cassette, the chain, the chainring, tyres, brake pads, it's all going to wear out and you need to factor in those costs.
Suspension
These bikes come in two different suspension options:
Full-suspension bikes are great in an off-road situation. It's got suspension at the front and the rear meaning it's going to give you a smooth ride. It's also going to give you great grip, comfort, and control in those situations. But it does come with a little bit extra price.
Hardtail bike are rigid at the back and have a suspension fork up front. These are great for general day-to-day riding or light off-road use. They do come in a little bit cheaper than their full suspension brother. However, they are not quite as capable when it comes to those off-road situations.
Travel Options
E-mountain bikes come in a wide range of travel options. You have short travel bikes that are often around 100mm travel. These are great for cross-country riding and nice smooth trails. Then you have the bigger brothers. They are 180mm to 200mm travel bikes. These are great for smashing through downhill sections at high speed on technical terrain.
But we consider the middle ground of those two bikes. The 150mm to 160mm travel to be the ultimate all-around e-mountain bike. One last thing when it comes to suspension and travel is that those suspension components on a sub £1000 bike aren't really up for off-road use.
Wheel Size
The two most common wheel sizes are 27.5 or 29 inches. You might hear the term mullet when you're buying your bike. It's nothing more though than mountain bikers making a meal what's essentially a simple mix of 29 upfront and 27.5 on the rear.
Budget
E-bikes range in price from £1000 to £15000. The big reason for the difference in prices is that e-mountain bikes tend to be a lot more sophisticated than a standard e-bike, which is just used for general commuting. The big price difference comes down to the material that the frame is made out of and the components that are on it and also, whether it's full-suspension or a hardtail.
Where to Buy?
How are you going to buy your e-mountain bike? Well, there are a few different options available. You can, of course, pop into your local bike shop, there are online bike stores or direct sales. These all differ in the way they're going to supply that bike.
Your local bike shop is a wealth of information. You can go in there, sit on a bike, and talk to the staff who are going to have a wealth of knowledge.
With online stores, you're going to get a lot of different options and quite a lot of different stock and that will get delivered to your door.
Best Budget Electric Mountain Bikes of 2021-22