To secure your bicycle, it's a good idea to invest in a decent lock if you want to find your bike where you left it. There are many different types of bike locks with the most popular being shackle and chain-based. The D-shaped shackle lock also known as U-lock is now a common and classic design.
Just as you don't want to lose your bicycle, you certainly don't want to break the bank for just one lock. So we've rounded up some of the top budget bike locks for you to choose from. Take a look at this list and if you still have confusion about how to choose one out of these options, we have a few tips to help you choose.
1. Abus Ultra 410 Mini D-Lock
Includes 120cm Cobra cable
Rattle free frame bracket
Plastic coating to prevent paint damage
Compact size
Hardened steel construction
The Abus Ultra 410 is the ultimate option when it comes to bicycle locks. It provides great security without breaking the bank. It is an entry-level lock that is simple, strong, and has an aggressive design but conceals several high-tech advancements in security. The lock comes with an additional 120mm Cobra cable for securing additional bikes and components. It also includes an easy to mount, rattle-free frame bracket. The construction is hardened steel and it features a plastic coating to prevent paintwork damage.
The Ultra 410 lock is made of solid materials and does not feature any moving parts, which makes it even more strong and more reliable. The included cable has "lasso" ends that allow one end to be threaded through the other. The length of the cable is quite reasonable and it can be fixed to the fence of the bicycle parking lot even though the front and rear wheels. Finally, the size is very compact and it can fit in your back pocket.
What I like: Great value, not too bulky, versatile
What I don't like: The small size cannot be used anywhere but you can use the cable to solve this problem.
See the Abus Ultra 410 Mini D-Lock
2. Kryptonite Evolution Standard
Steel shackle
3 Stainless steel keys
New smaller crossbar design
Higher security disc-style cylinder
FlexFrame-U bracket
Kryptonite is a well-known name in bicycle locks and we have three of their products here on this list. The Evolution Standard has a 14 mm hardened special steel handle. It comes with a FlexFrame-U bracket which helps you mount the lock on your bike while travelling. So you don't have to carry it around in a backpack.
The lock has a vinyl coating to protect from weather. The dust cover on the lock is a good addition. The lock comes with 3 stainless keys. One of the keys comes with LED light with a replaceable battery. It has a double deadbolt design to protect it from twisting. The dimensions are 10.2 cm x 22.9 cm.
Kryptonite offers a lifetime warranty for this lock. They will also replace 2 keys if you misplace them. All you need to do is register on their website.
What I like: Sturdy, reliable, comes with a lifetime warranty
What I don't like: The fixed size means you have to measure everything accurately.
See the Kryptonite Evolution Standard
3. Via Velo Bike U-Lock
All-weather protection
Pull and drill-resistant
Pick-resistant lock
Convenient mounting bracket
Lock debris cover
The Via Velo U-Lock is a tough heavy-duty lock made of 14mm heat hardened steel. It has a weather coating on it which protects it from moisture and hence corrosion. A dust/debris protection feature is also there for you which you have to simply twist the lock. The lock comes with a woven steel cable. The double bolt crossbar protects against twisting, prying, and jacking. The cylinder is 'pull and drill' resistant. The 180 cm cable and the lock are all covered with PVC coated so your bike doesn't get scratches.
It is 15 cm × 25 cm which can go through the bike and the wheel easily. The lock comes with 2 keys so you have a spare key. If you lose both of them, although unlikely, the keys are protected by Via Velo's Keyguard Programme. When you buy a lock, register your unique key code so you can claim a new key from anywhere in the world in case you lose one.
The lock comes with a mounting bracket where you can mount the lock with a simple 'place and turn' movement. The maintenance of the lock can be done by a light spray like WD 40. Although in some models, the brackets can get loose and rattle over time. If so, you can get a replacement by contacting their customer support.
What I like: Heavy-duty and reliable
What I don't like: Mounting bracket gets loose over time and the lock needs maintenance.
4. DINOKA Bike U-Lock
Heavy-duty and sturdy
Cut resistant
Silica gel layer coated
Bike lock set with 2 pure copper keys
Steel loop cable provides increased protection
If you want a smaller lock at a good price that still does the job well, DINOKA's heavy-duty security D shackle will be a good option to consider. As we're going to discuss later, sometimes it's best to buy the size you need and not a bigger size, which would come with extra weight and take up extra space.
This is a sturdy and durable lock with 14 mm hardened steel to give protection against leverage and cutting. It is 19.5cm x 13cm. It comes with 2 pure copper keys and a mounting bracket. The lock is made of a tough zinc alloy core. It comes with a 4 ft. braided steel cable. The lock is covered with a silica gel layer to protect your bike against scratches.
What I like: Sturdy and super affordable
What I don't like: Smaller than similar options
5. Abus Sinus Plus
USH bike mounting bracket
ABUS plus key locking mechanism
Shackle Thickness: 12mm
Length: 230mm
Weight: 1.72kg
The Abus Sinus Plus is a D-shaped lock that comes with a reliable and durable cable set. This 120mm/12mm cable can lock up wheels and saddles and it is very hard to break. The body of the lock and shackle are produced from hardened steel and incorporate the ABUS Plus key locking mechanism. This 12mm cable protects against pulling tools and hammer attacks. The package also includes a USH bracket that is easy to mount onto the bike.
The built quality is great and seems very solid. It will probably take a quilt a lot to break even with tools. The cable is also reasonably solid and it acts as an extra deterrent when attaching the front wheel to D-lock while the D-lock secures the rear wheel and frame. The lock comes with 2 keys and a "code-card" which you can submit to Abus to order replacement keys, in case you lost your keys.
What I like: High quality, durable, easy to mount
What I don't like: Fiddly to open and close
6. Kryptonite Evolution Mini 7
13mm hardened max-performance steel shackle
New sliding dustcover
New double deadbolt design
Higher security disc-style cylinder
LED replaceable key fob
The second Kryptonite product on this list is evolution mini 7. It is made of 13 mm hardened steel and rated 7 out of 10 for security. The lock can resist bolt cutters and leverage attacks. It has a pick-resistant lock system. The lock comes with 3 keys, one of which is equipped with an LED bulb and a replaceable battery. In case you lose the keys, they will send you an extra set if you have registered online. You get a 4-foot cable with the lock.
The transit FlexFrame-U transportation system is easy to install and it is easy to attach the lock to it. This is a good feature in these U locks because you don't have to carry these in your bags.
The vinyl coating on the lock protects it from scratches. It also has a dust cover. The double deadbolt design protects from twisting. The lock is gold sold secure. It is 23.8 cm x 16.4 cm. As the name suggests, the internal length is 7 inches. Kryptonite gives a lifetime warranty and anti-theft protection for your bike.
What I like: Easy to use, good value, versatile
What I don't like: Bulky, a little less secure than other U-Lock models
See the Kryptonite Evolution Mini 7
7. Hiplok LITE Wearable Chain
Wearable design
Proven security
Safe + removable
Award-winning design
Adjustable fit
Hiplok Wearable Chain comes in lite (bronze sold secure rated), original (silver sold secure rated), and gold (gold sold secure rated) versions. The design of these chains lets you wear them around the waist without having to lock them. The adjustable size is for waists 24″ – 40″. The sleeve is removable and washable.
The chain weighs around one kg. It is made of 6 mm hardened steel whereas the shackle is made of 8 mm hardened steel. The weight and steel thickness increases proportionally with security for original and gold versions. When locked, the chain gives about 75 cm of diameter. The lite version is perfect for any medium risk area.
The reflective rear tab helps in low-level light visibility. The plastic casing of the padlock is impact resistant. It comes with 3 keys and a lifetime warranty.
What I like: The convenience of wearing around the waist
What I don't like: Slightly short for people with a bigger waistline
See the Hiplok LITE Wearable Chain
8. Sportneer 5 Digit Code Chain
Keyless secure lock mechanism
Cut resistance cable
Easy to set/reset
Long flexible cable
Dustproof & waterproof cover
Sportneer's keyless chain is a good option for those who don't want to bother carrying keys everywhere or those who lose keys a lot. It is a 5 digit combination lock which means there are up to 100,000 possible combinations and any potential thief will have to have some serious skills to crack the code.
The 0.27-inch thick and 3.2 feet long manganese steel cable can resist cuts. But we will only recommend this chain for use in low-risk areas or as a secondary lock in high-risk areas. It can also be used for lawnmowers, gates, BBQ, toolboxes, etc. It is zinc plated so it can avoid any scratches to the paintwork.
The default code is 00000. Setting and resetting the code is very easy with Sportneer's visual guides. The chain weighs about 1.5 pounds and comes with a waterproof and dustproof cloth sleeve so that your chain remains protected in all weather.
What I like: Sturdy and lightweight
What I don't like: Not for high-risk areas, prone to jamming
See the Sportneer 5 Digit Code Chain
9. Tech Traders U-Lock with Double Loop Cable
Heavy-duty, sturdy and durable
Hardened max-performance steel shackle
Cut resistant
Resists leverage attacks
Comes with 2 keys
Tech Traders U-lock is a heavy-duty lock made of hardened steel 15 mm shackle that can resist cutting and leverage attacks. It comes with a 10mm x 135cm double loop cable. The good thing about double loop cables is that they can secure both wheels. Just take your U-lock and start by putting around the frame and the wheel at the back. Now take the cable, put it around the front wheel, and right away through the U-lock.
The lock is 26 cm × 13.5 cm and when folded in a circle, the cable has a diameter of 20 cm. The lock comes with 2 pure copper keys and a mounting bracket. The mounting clip is adjustable for size to some extent. It's always a good idea to check the size in the description beforehand. If you still get the wrong size or have any other complaints, the company gives a 30-day money-back guarantee if you are not satisfied with the lock.
What I like: Good value for money, strong and sturdy
What I don't like: The frame clip has a specific size, not fit for all bikes. The lock needs maintenance to keep it from getting stuck.
10. Kryptonite KryptoLok Standard
Constructed from hardened Steel
Resist cutting, sawing and prying
Deadbolt locking mechanism
High-security Bent Foot design
Kryptonium steel shackle
This is the third lock by Kryptonite on this list. The lock comes with a 13 mm hardened steel shackle. It is a moderate security lock for low-risk areas. It is 10.2 cm x 22.9 cm. With its deadbolt design, disc-style cylinder, reinforced sleeve over the crossbar, reinforced internal housing, and bent foot design, it is easy to use and can withstand cutting, sawing, prying, twisting, and leverage.
The lock is coated with vinyl to make it weatherproof. The common rattling sounds are controlled by an anti-rattle bumper that keeps shackles snug. The lock comes with 2 keys. The transit FlexFrame-U mounts help in mounting the approx 1.32 kg lock so you don't have to carry it in your bag.
The lock also has a dust cover on it. As with all their locks, Kryptonite offers a lifetime warranty and the key safe programme which means if you register on their site, they will send a replacement key in case you lose your keys.
What I like: It is recommended by the company for moderate security and it does a pretty good job in that category.
What I don't like: The key can get stuck if rust develops, needs maintenance.
See the Kryptonite KryptoLok Standard
11. Amtech S3285 Heavy Duty Chain
Comes with 2 keys
Integral lock head
Cover to prevent scratching your bike
Heavy Duty with protective nylon
Ideal for bicycles
The Amtech heavy-duty chain comes with an integral lock head. The chain itself is a heavy-duty square link chain of approximately 90 cm. To protect the chain from leaving any marks on your bicycle, it comes with a protective nylon sleeve. The lock comes with 2 keys.
Some users find the lock getting stuck after a few months. A very simple solution is to maintain the lock periodically. Like all mechanical systems, a lock needs some cleaning and lubrication as well. The chain can be used for motorbikes, bicycles, garden machinery, gates, etc. Amtech gives a 3-year product guarantee.
What I like: Heavy-duty and sturdy
What I don't like: The key can get stuck, needs maintenance.
12. Blusmart Bike Lock
Heavy duty to lock up a bicycle
High-level security
Easy to carry
5-bit digit password
Alloy lock head
Blusmart's bike lock is a keyless cable lock with a 5 digit lock that can be used for bicycles, scooters, grills, etc. With 100,000 possible combinations, the time to crack the code increases 10 fold. The lock pin is made of a waterproof material which makes it rustproof.
The 6 ft/ 1.8 m cable is made of 12 mm twisted metal inside a rubber coating. The metal is durable and can resist cutting, prying, jacking, and water. The locks are made in such a way that you can reset the locks and join multiple cable locks end to end if you want to get a longer cable.
The cable is covered with PVC material and comes with a convenient bike mount. It can give a tough time to thieves because it will take about 5000 minutes to crack the code. The cable is difficult to be cut with wire cutters, hacksaws, hammers, and bolt cutters. The cable can withstand up to 40°C. It comes with a 12-month warranty.
What I like: Lightweight, sturdy, strong and comes with a mounting basket.
What I don't like: Only for small stops in very low-risk areas. Coiling the memory of the cable can be a hurdle.
How to Choose Budget Bicycle Locks?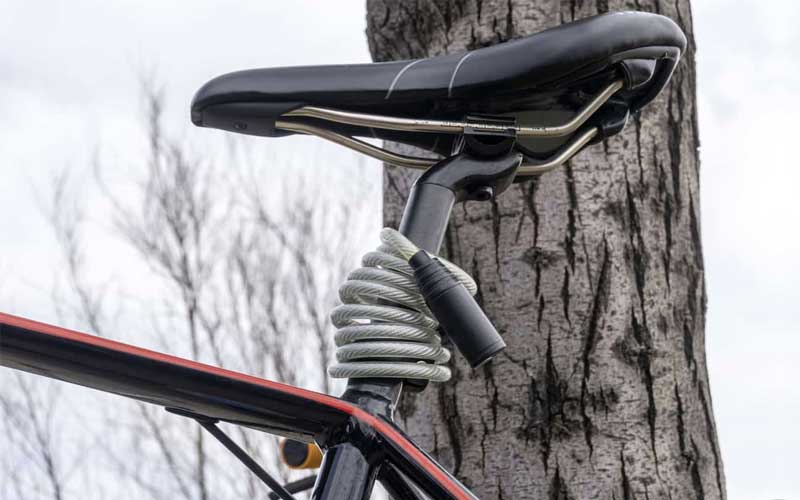 A committed thief with enough time and the right tools can get through any lock, but thankfully, not every thief is going to have the right equipment for the lock you use. In a crowded place, no one can carry heavy cutters. For less crowded areas, for example, a college campus at night. It's a good idea to invest in a heavy-duty lock and make sure you park in a secure area and use a sturdy pole or grill to lock your bicycle.
The following are a few things to keep in mind while purchasing a lock for your bicycle.
Security Ratings
Most manufacturers have their security ratings usually on a scale of 1 to 10. These are useful if you're comparing models within a brand but for a more objective measure, the best thing to look for is a Sold Secure rating. Sold Secure is an independent organization administered by the Master Locksmiths Association. Locks submitted for certification receive one of three ratings; Gold, Silver, or Bronze. These reflect the length of time a lock will hold out against escalating levels of attack. Bronze is a minute with basic tools, silver is three with a wider array of tools, and Gold is five minutes with more sophisticated tools.
Price
Security increases according to how much you're willing to pay. Cheap bicycle locks offer poor security with many only serving as a visual deterrent. Any lock will slow a thief down. But if a committed bike thief takes an interest in your bike and you don't have the right hardware, you can say goodbye to your ride. A higher price might be indicative of better quality, it is not necessarily always the case especially in more secure areas you can skimp on the price.
Shackles and Cables
Look out for shackles and cables with rubberized coatings that won't make a mess of your paintwork. Chains will usually have a fabric covering also to protect your frame from damage.
If you want to secure your wheels as well as your frame, you're going to need to add a beefy extension cable loop to your bike lock. Some brands offer these bundled with shackle locks or you can buy them separately.
A good method for this is to lock one wheel along with the body frame together with a U-lock or a chain and pass a cable or another chain through the other wheel. You can interlock both of these or any combination depending on the risk in the area you're parking in. In the end, you have to find the best combination that works for you and keeps your bike yours.
Keys
At least one spare set of keys is essential, two is better. If you don't want to end up breaking into your lock to retrieve your bike, you'll keep one set at home and one set on your keyring. The best brands offer a replacement service so keep the key code somewhere safe.
Type
There are 3 main types of bicycle locks. Chains with padlocks, U-locks (also called D locks), and cables with padlock or combination locks. Chain locks are the most secure but heaviest, U-lock slightly less secure but lighter and cable locks are the least secure but also the lightest.
Coverage or coating is very important. If your bike paint gets scratched, rust will find a starting point that won't stop until you deal with it properly. This can be a bit of an unnecessary nuisance. It's better to avoid such a situation with a well-coated lock and mounting mechanism.
Ease of Use
A lock should allow you to easily loop it through the bike and an immovable object. It should not get stuck now and then. This is where regular maintenance comes in. Any kind of machinery or metal object needs to be cleaned and lubricated periodically to keep it functioning well.
A lock should allow you to easily loop it through the bike and an immovable object. It should not get stuck now and then. This is where regular maintenance comes in. Any kind of machinery or metal object needs to be cleaned and lubricated periodically to keep it functioning well.
Weight to Size Ratio
The size of chains can be reduced to reduce the weight or a smaller U-lock can be used to cut down on weight. But you have to find the ideal ratio of weight versus practicality and security. After all, you don't want to drag extra weight on your bike but you also want to keep the bike secure.
Another factor to consider is the dimension. While choosing a lock, make sure it can fit through your bike and a static object for a secure lock. In the case of U-locks that can be mounted on the bike, make sure you measure the width and length of the area where you will mount the lock.
Area of Use
When buying a lock, the first thing to do is a bit of research about the area in which you're going to park your bike. If it's a high-risk area, it's better not to skimp on quality. Go for a good quality heavy duty lock. You can give them a tough time by using an additional secondary lock. For medium risk areas, a single good quality lock is enough. For low-risk areas and when you have the bike in front of you (e.g. a quick stop at a coffee shop), a cable lock is enough.
Layout of the Locking Mechanism
Finally, pay attention to the layout of the locking mechanism. End mounted locks are easy to attack with a drill so the most secure designs have the mechanism and keyhole in the barrel centre. Keyhole covers are also useful especially if you're going to be locking your bike up in the rain.
Best Budget Bike Locks of 2022