Cycling shorts are an important part of gear when it comes to cycling. They form a barrier between the body and the saddle. The main function of the cycling is to prevent saddle sores and chaffing allowing the rider to ride for longer periods without having to rest through features like padding and moisture-wicking to provide comfort. But one doesn't have to go broke to find that out.
If you are looking for a pair of shorts at a reasonable price, here is the list of top budget-friendly cycling shorts that you should consider.
1. dhb Flashlight
Elastic leg opening
High stretch fabric
Reflective prints for high visibility
80% Nylon and 20% Spandex
dhb Flashlight Waist Shorts are ideal for those who are looking for great value shorts. The Flashlight was developed keeping in mind the visibility issues that riders often face. Often matte black shorts easily allow other traffic on the road to miss or overlook cyclist which becomes dangerous for them. The Flashlight waist shorts feature high-quality reflective elements that make the riders more visible to the traffic. The fabric features a blend of 80% nylon and 20% elastane which allows for free movement and a comfortable fit. The Ceylon stretch positive compression fabric keeps everything comfortable.
The pad in the crotch is of moderate thickness. It is not too thick neither too thin. It is a 2-3 hour riding pad. So, don't expect it to provide comfort on a full-day ride. But, it does well what it is meant to do, that is, to provide comfort during a commute or leisure ride. The shorts feature soft wings all around its construction to prevent chaffing. What makes dhb so comfortable is their collaboration with Alvanon which is a leading company in body measurement data collection. The Flashlight is a great value option for beginners and casual cycle riders who are looking for some more athletic rides.
Pros: Stretchy and comfortable, great value, reflective trim on both legs
Cons: Not designed for all-day riding, not a deep or thick pad
2. BALEAF Padded Anti-Slip
Flexible and durable fabric
Breathable and moisture-wicking
Suitable for sensitive skin
Gradient design of padding
Talking about a more reasonable priced cycling shorts which are targeted a bit more towards athletes, the BALEAF Padded Anti-Slip shorts are something to look for. They are specifically designed to provide comfort on longer rides. The fabric of the Padded Anti-Slip features a blend of 92% nylon and 8% elastane. With BALEAF's special weaving technique, the fabric becomes much more durable and resistant to deformation as a result of washing. The fabric is breathable and provides good ventilation. It also has moisture-wicking technology to keep the rider dry and comfortable. The fabric is also UPF50+ to protect against UV light.
The bands of the waist and leg grippers feature silicone patches which don't let them slip. The bands are also wide and to offer long riding comfort. Below the waist are two medium-size pockets that can be used to hold small things and can hold a phone of up to 5.5″. In between the legs, the shorts feature an antibacterial chamois. The chamois is 3D moulded and features a gradient design meaning it goes from being thin in the front for comfortable mobility to being thicker at the hips to reduce discomfort caused from the saddle. Between the hips, the chamois also features gel padding which further reduces vibration from the saddle.
Pros: Fits perfectly, feels high-quality, comfortable for longer rides
Cons: Basic padding, stitching wears out quickly
See the BALEAF Padded Anti-Slip
3. FDX Performance Bib
80% Polyamide, 20% Elastane
High-performance breathable fabric
Fit is anatomically designed
Flat seams to reduce skin irritation
The FDX Performance is a pair of bib shorts designed for more enthusiastic riders. The construction of the Performance is kind of professional which gives a message that it is not to be taken lightly and that it can work in fairly high-performance situations while costing far less than some high-end products on the market. That is not to say that it beats them, but it manages to keep it competitive. The fabric is a standard blend of 80% nylon and 20% elastane. The fabric is high density but feels lightweight, perhaps, due to its lightweight construction. However, this does make durability a concern. But the fabric also has great breathability. The shorts also feature mesh at the back adding to the ventilation.
The Performance bib shorts are also fitted with antibacterial Coolmax padding developed by DuPont. The padding offers a very comfortable experience during long vigorous long training rides or racing rides in the heat. Overall, these shorts are a great option for cycling in hot weather. The shorts further add to the comfort with flatlock seams and flatlock stitching to prevent chaffing which allows for longer rides without rest. The leg grippers feature silicon patches to avoid slipping. The Performance Bib comes in a variety of vibrant colours for better visibility. This is a great bargain for the money it asks for.
Pros: Great value, seams look good, comfortable, does a good job
Cons: Slightly loose around the legs and there's no elastic for adherence
4. Nukeproof Blackline
Cordura nylon ripstop fabric
Abrasion-resistant and lightweight
Adjustable waist with Velcro
Triple-stitched seams
Riding through the mountains can expose a rider to wet conditions at any time, it can be the mist, the ponds, or outright rain. The Nukeproof Blackline Waterproof Shorts are the perfect pair to tackle such a situation at a low price. It is the ultimate wet weather protection while riding in the mountains. It features a high-quality, lightweight CORDURA stretch fabric which is completely waterproof.
Having a completely waterproof should mean that there is compromise regarding the breathability of the fabric, but that is not the case. The fabric is still surprisingly breathable, not just "yes, it works" kind of breathable, but a proper breathable fabric. It also features triple-stitching for more durability. The waist features Velcro straps for adjustment along with silicone panels to avoid slipping of the shorts even during wet conditions. The trim fit of the shorts is very comfortable. The shorts also feature two front zipped pockets for secure storage of small stuff. Such amazing features at this price point are rare to find.
Pros: Stylish, feels comfortable, durable triple-stitched seams
Cons: Limited colour choices, not very budget-friendly
5. dhb Flashlight Bib
Elastic leg opening
High-performance stretch fabric
Reflective prints for visibility
Veloce seat pad
dhb Flashlight Bib shorts are great entry-level shorts. They have a lot of reflective elements and they are of great value. It has a thin light pad which offers stretch and comfort. It is a pair of shorts for everyday use which gives the wearer a little more protection. The fit is tight but comfortable making it a good choice for athletes. The fabric contains a good 80% nylon and 20% elastane which gives freedom of movement during cycling along with comfort. The positive compression of the Ceylon stretch fabric keeps everything in place.
The pad in the middle of the shorts is not too thick neither too thin. It feels rather delicate. However, the thickness of the padding suggests that it was not made keeping all-day riding in mind. It is ideal for moderate commutes and leisure rides. However, the Race LT pad does what it is meant to do, that is, provide a comfortable seat. But the as the name suggests, the Flashlight is made to look visible. It features high-quality trims which are highly reflective as well as providing 360° visibility in the night as well as in daylight. The Flashlight, in the end, doesn't have all the bells and whistles but it is a decent commuter pair at a decent price.
Pros: High visibility, excellent value, quality construction
Cons: Not recommended for longer rides.
6. dhb MTB Trail Pro
90% Polyamide, 10% Elastane
Tough and durable construction
Adjustable waist with hook and loop tabs
High stretch rear yoke panel
The dhb MTB Trail Pro Baggy shorts are tough and well-fitting and provide excellent comfort. For the price they are available, they offer a lot of shorts. These shorts are an excellent value product that won't disappoint. These are durable shorts which can be used in any season. The fabric is a blend of 84% nylon, 11% polypropylene, and 5% elastane. By combining nylon and polypropylene, the fabric of these shorts is very lightweight and while also highly durable. The fabric provides a two way stretch for comfort. The use of different inner and outer faces, the fabric of the shorts is made breathable and tough.
The outer face is made of nylon for its durability and abrasion resistance to manage high-speed off-road cycling while the inner is made of polypropylene which is hydrophobic and helps in moving moisture away from the body to the outer layer where moisture evaporates. The waistband features an elastic adjuster with silicone strips to keep them in place. There are two zipped pockets at each leg which are integrated into the seam to make them blend in giving the shorts a smooth look.
Pros: Quality construction, good fasteners, perfect length
Cons: No zippers on the pockets.
7. Endura 6-Panel II
Anatomic 6 panel cut
Silicone leg grippers
Embossed side panel
Lightweight nylon/Lycra blend
The Endura 6-Panel II shorts designed to give the rider excellent freedom of movement. As the name indicates, it is made out of 6 panels of fabric to provide the utmost freedom of movement. The panels are cut anatomically to give the best fit for least resistance in movement. The fabric is a blend of 50% nylon and 50% Lycra, as a result, it is lightweight, has a good stretch, and is resistant to water. The fabric also features an antibacterial lining to avoid smelling. The fit of the 6-Panel is very close to the skin and feels as if it is a part of the skin. There is no feeling of extra bulk with these shorts as well as the freedom of movement that it provides.
The padding on the 6-Panel is very good and adds to the comfort of the shorts. The padding is moderate and holds nicely for 2-3 hours of riding which makes these shorts more of leisure riding or commuting shorts. The moisture-wicking capability of the shorts keeps the rider dry and comfortable. However, the shorts lack pockets, so, for people conscious about storage, these shorts might present problems for them. The front lacks flat-stitched seams which can get irritating but the leg seams are flat. But all-in-all, these are a good pair of shorts capable of providing a good riding experience.
Pros: Comfortable for a 2-hour long ride, good fit, durable and rugged
Cons: The pad is a little thin.
8. Altura Airstream
80% Polyamide, 20% Elastane
Reflective detailing
Moisture-wicking fabric
Silicone grippers
Altura Airstream is a simple pair of cycling shorts. But don't be fooled by that because they are very effective at what they are made for. For those seeking performance at a reasonable price, they are an ideal choice. The fabric of the Airstream is a blend of 80% nylon and 20% elastane which is sort of the standard across cycling shorts. The fabric has moisture-wicking technology which keeps the rider from feeling clammy during vigorous rides. The elastic waist and the leg grippers consist of silicone patches making them stick to the skin so that they don't slip.
Airstream features the Altura Comp 3D pad which has a variable density foam making it thin at the front to allow easier leg movement and thick at the back for effective foaming of the hips. The gel inserts under the hips also make long rides comfortable. The anatomical shape gives a perfect fit to the rider which provides comfort and easier movement during pedalling.
Pros: Perfect fit, looks attractive, super comfortable
Cons: Low quality materials, the material on the leg is thin
9. Sundried Padded Bib
Breathable and moisture-wicking fabric
Premium gel pad
Machine washable
Generous suspenders
Sundried Padded Bib Shorts feel and seem expensive even when they are not. This is an admirable trait in a product. They are an amazing pair of exceptional comfort. The shorts are breathable and also have moisture-wicking technology. The fabric is a blend of the standard 80% nylon and 20% elastane. The moisture-wicking technology of the fabric keeps the rider dry and comfortable on long rides. The suspenders are generous and do not restrict movement which makes these shorts very comfortable.
The shorts feature leg grippers with silicone panels which prevent the shorts from rising. The main feature of these shorts is that they offer premium gel pads even at a low price point which is a great feature. However, the shorts lack pockets which may make one think if they want to bring a phone with them. But to an optimistic, this is a plus point as it allows them to focus solely on riding without distractions.
Pros: Comfortable for longer rides, the pad is thick and dense without being bulky
Cons: A little tight around legs.
10. Troy Lee Designs Skyline
Reflective heat transfers
Feature 2 zippered hand pockets
Zipper fly with snap closure
Self-fabric waist adjusters
Troy Lee Designs Skyline is a loose-fitting baggy short which are a great alternative to the tight-fitting Lycra shorts that look funny. Apart from the design, the Skyline feels robust and reliable. It is a classic design with a pocket design with simple Velcro adjustment at the waist. Skyline provides exceptional comfort as it comes with an AirComp 4-hour chamois pad which is of decent quality and feels nice on the saddle. These are excellent trail riding shorts having a trim fit and shorter inseam for great pedalling feel.
The Skyline is loaded with features which are subtle but make up for a functional pair without being too flashy. The Velcro straps on the waist feel like they provide almost infinite adjustability. The silicon patches on the waist make sure it doesn't slip. Just below the waist, on each hip, are two large zipped pockets which are deep for secure storage. The fabric, however, is a bit thicker and seems to trap warm air and moisture. The shorts seem to have no sort of ventilation and the backstretch panel seems to be ineffective in providing any ventilation as well. But the shorts are long enough to feel like trail shorts and short enough to allow a lot of pedalling.
Pros: Quality chamois, trim and clean fit, pedal-friendly
Cons: Little ventilation and heavy
See the Troy Lee Designs Skyline
How to Choose Cycling Shorts?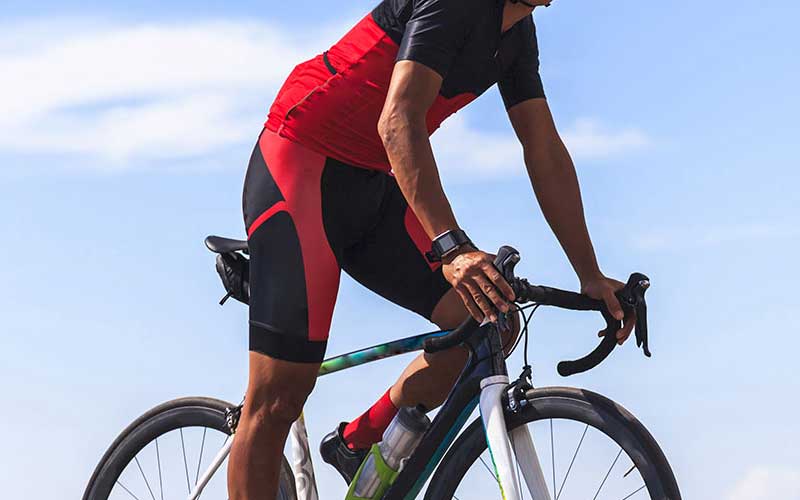 Choosing a pair of cycling shorts can become a bit tricky due to all the varying options with many different features. They are made of stretchy material – usually nylon and Lycra to move with the rider and stay durable. The function, as mentioned in the introduction, is to prevent chaffing and saddle sores for longer periods of comfortable riding.
Shorts are tough to recommend due to the differences in butt, crotch, and riding position. Every rider has to try on the shorts themselves to find the one that fits them the best. Even then, there is no guarantee how it will perform while longer periods of cycling. There is no right answer. One has to be lucky to get it right the first time.
Of course, when buying a pair of shorts, quality of material and construction has to be considered. But what matters is how they fit the body. Although, high-end shorts have better features and all, sometimes, an inexpensive pair fits better.
However, there are some baselines you should consider while buying cycling shorts. Here are a few tips on how to choose cycling shorts:
Construction
Construction is the most important thing to look for as it determines how comfortable the shorts are going to be. There are a few things to consider when looking for the construction of the shorts. All these construction factors, together, determine the overall quality of the shorts.
Tight Vs. Baggy
Tight shorts are more comfortable and aerodynamic if one is looking to ride on the road for long distances. However, baggy shorts are also available which give a normal look and maybe for people who are concerned about how they look.
Panels
High-end shorts are usually made of 8 panels and conform better than those of with fewer panels. Flat-seam stitching can be found on virtually all shorts to avoid abrasion and discomfort.
Waist
Cycling shorts are high at the back and low at the front. This allows the shorts to keep the back covered while bent and not causing any restriction at the front. The waist-length should stay above the hip bone so that the bone can hold it up.
A drawstring alone in the waist should be avoided as it can cause not only irritation but also restrictions in certain positions, especially during heavy breathing. Elastic alone is fine but it should be wide enough to not feel like a cord. A drawstring along with elastic is a more secure combination.
Liners
Crotch liners, nowadays, are synthetic instead of genuine leather. The advantage of them being synthetic is that they don't dry and crack which irritates. Usually, a liner consisting of only one piece is absorbant, and is moderately padded is comfortable.
Liners with grooves, seams, sections may irritate. But there is no possible way to find out as they may not cause discomfort to some. The only way to find out the comfort is to try them on. Thick padding and gel inserts should be avoided as they cause chaffing and plastic compartments they are in blocks moisture transfer causing more irritation.
Leg Length
Leg length is mostly dictated by the latest fashion trends. Some prefer long-short just above the knees while others prefer short shorts like the ones used for spic class, however, the thing to keep in mind is that they shouldn't be short enough that the nose of the saddle rubs against bare skin.
Leg Grippers
Leg grippers are essential. Make sure that the grippers aren't too tight. These should be made out of sticky rubber material with secure seams to feel comfortable. Not having grippers cause the shorts to rise and bunch at the crotch which can be irritating.
Padding
All cycling shorts with some sort of padding at the crotch. This can be a single layer of soft material or thickly padded or anything in between. They are also sometimes called chamois because they used to be made from chamois goat leather. It required careful hand-washing and treatment with chamois cream afterwards. Today, riders still use chamois cream to reduce chaffing on longer rides.
Stretch and Durability
Stretch and durability of the shorts depend on the blend of nylon and Lycra. Nylon is a strong and elastic fabric. It is resistant to abrasion and easy to wash and dye. It is also resistant to water and resistant to insects and fungi. All these properties make it a great fabric for apparel.
Lycra is a trademark name of elastane or spandex. It adds more flexibility and stretch to the fabric as it is known for its elasticity. The more Lycra there is, the more stretchable the shorts are. The elasticity of Lycra allows the shorts to move with the body. It also allows for a wide range of motion which makes it ideal to be used in apparel.
Shorts Vs. Bibs
There is nothing to be confused about bibs or shorts. Bibs are fundamentally the same as shorts. However, bibs have shoulder supports while shorts don't which makes bibs more comfortable as there is not elastic waistband causing chaffing or pressure sore after longer use.
But this makes bibs more expensive as well. However, it is tough to manage washroom breaks in a bib. Bibs are for more keen riders looking to go on longer rides with comfort. For beginners and hobbyist, shorts work fine.
Best Budget Cycling Shorts of 2020