With such a wide array of helmets available on the market for road cyclists, it can be challenging to choose the one that fits your needs especially if you're on a tight budget. Generally, spending more money on a helmet won't make it any safer. In fact, some studies have shown there's no difference between a cheaper and premium helmet in this particular regard. Most countries around the world have certain safety standards which helmets have to meet before they are made available for sale to the general public. Now those safety stands will differ slightly from one country to another.
So here are a few budget-friendly cycling helmets that you should look into before buying a helmet for yourself.
1. dhb C1.0 Crossover
Weight (M):
355g
MIPS:
No
Number of vents:
19
Sizes:
M, L
dhb C1.0 Crossover is a helmet for those who are looking for versatility in their day-to-day rides. This helmet allows one to hit the road, the trails, and the hills whenever one wants. The versatility of this helmet is its strong point. At a low price-point, a one-in-all helmet that can be used anywhere along with other features is a bargain. The C1.0 Crossover has a low-profile design which is sleek and good to look at. The helmet has 19 large vents which provide maximum airflow. The streamlined design of the helmet makes it very aerodynamic. The helmet features CoolmaxTM padding which is removable for easy washing.
It also has an ergonomic dial system for adjustment. The dial has reflective decals which make them easy to read and easy to make adjustments. Moderate padding and adjustable nylon webbing straps make this helmet comfortable while the straps being nylon also make them very durable. The dhb C1.0 Crossover is a great helmet which is durable, comfortable and has great airflow. The versatility of this helmet makes it a strong selling point for riders who are looking for versatility in their rides. It's a jack of all trades.
What I like: Fits good on your head, fashionable compared to some other options
What I don't like: The colour was different from the picture shown
View at Wiggle View at Chain Reaction Cycles
2. Abus Macator

Weight (M): 240g
MIPS: No
Number of vents: 13
Sizes: S, M, L
Abacus Macator is a decent entry-level helmet which has a few added features that are found on more expensive helmets along with good ventilation. The fit of the helmet is good and provides good adjustability to make the rider feel comfortable. The Macator is not limited to road riding. It comes with a removable visor which makes it usable for gravel and mountain bike user. The visor also makes the helmet aesthetically more pleasing. However, the shape of the helmet makes it a bulky lid that covers the head.
Fortunately, Abus's Ace Zoom retention system is very good in keeping this bulky lid attached on to the head. It offers minute levels of adjustments which allow achieving a great fit and tension around the head. The vertical adjustments could have been better though. The Macator has 13 vents in total. The venting is reasonable. 13 vents in the front have bug mesh to keep the rider protected from wasps and other such insects. The mesh limits the airflow a bit. Needless to say that this helmet is not for competition but rather, recreational riding.
What I like: A good entry-level option, good numbers of colours and sizes, bug mesh included
What I don't like: Bulky shape and the retention system is a little sticky
3. Giro Fixture MIPS

Weight: (M) 303g
MIPS: Yes
Number of vents: 18
Sizes: UA, XL
Some options on the market will just surprise you that they are just not possible in the budget that they are offered. Giro Fixture MIPS is one of those options. It is a stylish helmet which is loaded with features that will make you love it. Giro Fixture is a low-budget trail helmet which features MIPS protection. Looking at the helmet normally doesn't feel like it is a budget product. Giro has hidden the cost-cutting well. It is only on close inspection or prolonged used that one starts to realize the cost cuttings. Even then, they are not a deal-breaker.
The fixture has only 18 vents, which is fewer than other high-end helmets. However, these vents are large enough to provide to keep the head cool and also well placed. The eyewear can be slipped into the rear vent making them easier to wear while the helmet is on. This is a feature Giro doesn't even bother to mention. The Fixture is one-size-fits-all. Usually, this kind of system is thought to be a disappointment but surprisingly, this is not the case with Fixture. The system fits well and doesn't require any fiddling once adjusted. Although the adjustment system may be a bit tough to deal with. The visor is not removable but doesn't block vision at all.
What I like: Looks very modern, excellent ventilation, adjustments hold tight
What I don't like: The fit system is hard to adjust, fixed visor
View at Wiggle View at Chain Reaction Cycles
4. Giro Foray

Weight (M): 270g
MIPS: No
Number of vents: 21
Sizes: S, M, L
The Giro Foray is one of the best value helmets that one can get. It offers all the expensive features which are usually only found only on the high-end models at a low price. It comes with a similar-looking design that the more expensive Giro helmets have. The Foray features a well-ventilated design. It is easy to adjust to achieve a comfortable fit and comes with Giro's Roc Loc 5 having an adjustable headband with a tension dial. Foray also features the same type of Y-buckles and chin straps as some of the expensive models in Giro's lineup.
It is also very lightweight and has a slim design which makes one hardly feels it on the head while wearing it. Foray features 21 vents which are spread all over the helmet which translates to an effective ventilation system. The durability of the Foray is its weak point, however. While the helmet manages to stand up to the competition, there are some minor details left unattended which can lead to early durability issues. Furthermore, the shell of the helmet is also a balance between heavyweight and a higher-quality shell.
What I like: Good ventilation, classy fit system, stylish look
What I don't like: Retention doesn't stay in place
View at Wiggle View at Chain Reaction Cycles
5. Bell Formula MIPS

Weight (M): 285g
MIPS: Yes
Number of vents: 19
Sizes: S, M, L
The Bell Formula MIPS is another helmet on this list that feels far more expensive than it is. It has a great fit, a lot of ventilation, and MIPS protection integrated into the hard shell. For the price that it demands, it gives the high-end contender a run for their money. Formula MIPS is made from Bell's fusion in-mould process. It has a polycarbonate shell bonded to the EPS shell which makes it sturdier. While many manufacturers leave the EPS shell exposed where it is bonded to the outer shell, Bell covers it with another shell which gives the helmet a more polished look and also gives more protection from being dropped or being hit by stuff when in storage.
The ventilation on the Formula MIPS is great as it has 19 vents. The air can be felt passing through the helmet while riding. The fit of the Formula MIPS can be tweaked using the which is more like other retention system featuring a dial. But unlike other systems, it is attached to the front and the back of the padding with just Velcro straps. The design of the Formula MIPS is similar to the higher-end models from Bell, like the Stratus and the Falcon. It provides extra coverage at the back of the head and it hugs the head tightly which gives a more secure feeling.
What I like: Vents work great, good protection and fit
What I don't like: No rear reflector
6. Kask Rapido

Weight (M): 220g
MIPS: No
Number of vents: 24
Sizes: M, L
The Kask Rapido is a great option for beginners who just got into racing. It is a budget-friendly option that is inclined towards performance. It features the same sleek looks that were made famous by Team Sky using the high-end models. Rapido is all Italian-made who know a lot about top-speed performance so you know that this isn't a contender that should be taken lightly. It features a polycarbonate shell which covers the helmet at the top, the base ring, and the back. To ensure a higher level of security, MIT technology is applied to all Kask helmets. Kask uses the innovative in-moulding system to join the inner polystyrene shock-absorbing layer to the outer polycarbonate shell giving great protection and adding to the durability of the helmet.
Rapido features 24 vents, all strategically placed to optimize aerodynamics for fast riding. But optimizing aerodynamics is not the only function they perform. They are also effective in keeping the head cool by providing a good amount of airflow. Rapido also features a hinged rear retention system which slides the rear strap up and down. It works well with easy adjustments using the large twist dial adjuster. However, it looks clunky. The side-straps are adjustable with lockdown buckles but the webbing doesn't feel soft. But these aren't deal-breakers and Rapido is a solid performer nevertheless.
What I like: Good aerodynamics, lightweight, cool look
What I don't like: The retention system is a little bulky
View at Wiggle View at Chain Reaction Cycles
7. Giro Cinder MIPS

Weight (M): 303g
MIPS: Yes
Number of vents: 26
Sizes: S, M, L
Giro Cinder is a mid-range helmet which is comfortable while having a high-end style. The reason that makes Cinder outstanding is the excellent performance it delivers at a reasonable price. It has enough ventilation to keep the head cool in a majority of conditions and the adjustability makes it usable with other headwear. The shape of the Cinder is great and is also a reason for the comfort of the helmet. Additionally, the MIPS liner gives an excellent fit which increases the comfort of the helmet. The helmet is well padded at the forehead, the temples, and the top of the head making it comfortable for longer rides.
Cinder uses Giro's Roc Loc 5 fit system which is an excellent fitting system having a two-way adjustable dial at the rear. The adjustable headband to accommodate different head shapes along with adjustable Y-straps helps achieve a perfect fit. 26 wind tunnel vents run through the structure of the helmet. They keep the helmet adequately cool. The MIPS liner aligns perfectly with the vents. That being said, the durability of the Cinder is a bit compromised due to exposed EPS liner, It is not bad though; the helmet can still be labelled as a moderately durable helmet.
What I like: The style looks high-end and premium, comfortable, and very adjustable
What I don't like: Poor aerodynamics, warm for hot weather
View at Wiggle View at Chain Reaction Cycles
8. Kask Mojito 3

Weight (M): 230g
MIPS: No
Number of vents: Not specified
Sizes: S, M, L
Kask Mojito 3 is an improvement over the popular Kask Mojito X. Mojito 3 has been tweaked to make improvements to ventilation and safety. Mojito 3 has fewer vents but those vents are larger than on the previous version. The padding has also been upgraded to provide more comfort and better safety. Mojito 3 has fewer vents than Mojito X coming down to 17 from 26. But according to Kask, the improved shape and increased size of the vents increase the surface area along with better positioning and better channelling of the vents to make them more effective in keeping the head cool.
The overall shape of the helmet looks very modern with a less pronounced tail than the Mojito X and a smoother top section owing to fewer vents. Kask terms this helmet as a "recreational helmet" and doesn't claim to be a highly aerodynamic performance helmet. The inner padding is one piece making it easier to remove for washing or to replace. Mojito 3 is fitted with the same Octo Fit retention system found on Kask's more expensive helmets offering a refined fit adjustable horizontally and vertically. It is an excellent helmet for recreational riders looking for something at a reasonable price.
What I like: Good and comfortable straps, lightweight, good adjustability
What I don't like: The shell is slightly small and doesn't fit narrow heads
View at Wiggle View at Chain Reaction Cycles
9. MET Rivale

Weight (M): 230g
MIPS: No
Number of vents: 18
Sizes: S, M, L
The Rivale is MET's second-tier helmet. It is used by the Dimension Data team and can be seen on the heads of Steve Cummings and Mark Cavendish. This is to say that this is a serious contender in the budget category and not something that one should easily overlook. Rivale uses MET's HES construction system which is effective in spreading the impact to the entire helmet. The Safe-T Advanced fitting system which adjusts the fit around the entire head instead of just the rear and the micro-adjustability allows for a perfect fit making the fit of the helmet better than the competition.
Rivale has a very low and racy profile. It is also a very lightweight helmet. MET claims that this helmet saves 3W at 50kph which doesn't sound a lot but it can give an advantage of a second or two over the competition. The internal padding is minimal but it is present in the right places making this helmet adequate for long term use. The real selling point of the Rivale is its aero. The vents on the helmet are placed in a very strategic way and make the helmet slip through the air. The side profile of this helmet is very attractive due to the shape of the vents and the overall shape of the helmet seems aggressive giving a sense of competition. This is a premium lid on a budget.
What I like: Lightweight and aerodynamic
What I don't like: Flappy straps
View at Wiggle View at Chain Reaction Cycles
10. Abus Urban-I

Weight (M): 250g
MIPS: No
Number of vents: 17
Sizes: M, L, XL
Abus is a German company who are known for their bike locks. But, with the Urban-I helmet, they have decided to solidify their position in the helmet category. The Urban-I is a low-profile commuting helmet which is developed to keep the rider safe on the road with two small integrated LED lights at the back. It is a helmet with a close fit and extended rear for added protection. Although the fit is close, it still feels very comfortable. It is a good looking helmet with a smooth design. There are a total of 21 vents in the helmet which ensure good ventilation so that the rider doesn't heat up while striving to go faster.
Urban-I features a Zoom size adjustment system which has an adjusting dial which loosens or tightens the fit of the helmet. The straps are also adjustable and the chin guard is heavily padded which makes for a tight fit but also makes the helmet comfortable to wear. But the most notable feature of the Urban-I is, of course, the rear LED light that enhances the visibility of the rider. The integrated light has two modes, continuous and flashing. There is also a triangle-shaped reflector that is present with the light. However, the light is not as bright as some aftermarket options.
What I like: Bright LED light that is helpful at night, well made and lightweight
What I don't like: The chin strap is difficult to secure
View at Wiggle View at Chain Reaction Cycles
Best Budget Cycling Helmets: Comparison Table
| HELMET | WEIGHT (M) | MIPS | NUMBER OF VENTS | SIZES |
| --- | --- | --- | --- | --- |
| dhb C1.0 Crossover | 355g | No | 19 | M, L |
| Abus Macator | 240g | No | 13 | S, M, L |
| Giro Fixture MIPS | 303g | Yes | 18 | UA, XL |
| Giro Foray | 270g | No | 21 | S, M, L |
| Bell Formula MIPS | 285g | Yes | 19 | S, M, L |
| Kask Rapido | 220g | No | 24 | M, L |
| Giro Cinder MIPS | 303g | Yes | 26 | S, M, L |
| Kask Mojito 3 | 230g | No | Not specified | S, M, L |
| MET Rivale | 230g | No | 18 | S, M, L |
| Abus Urban-I | 250g | No | 17 | M, L, XL |
Should you go for a budget option?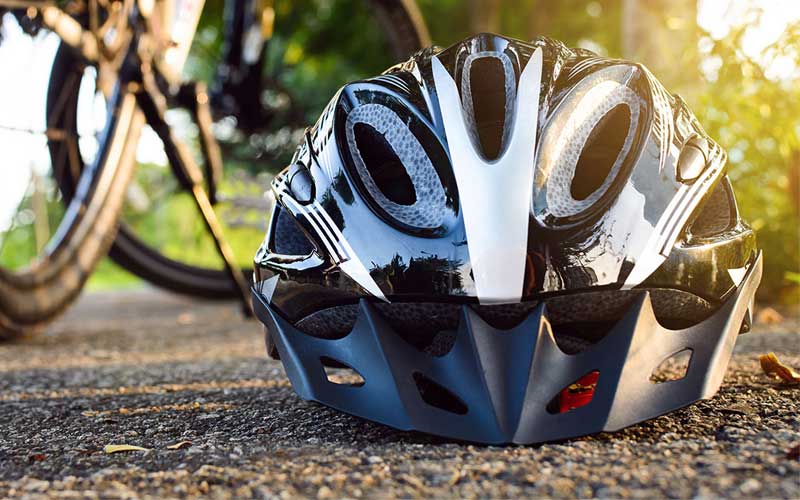 As I mentioned earlier in into, spending more on a helmet doesn't make it any safer, then what exactly do you get?
Less Weight: Well at the lower end of the market, spending a little bit more money on your helmet should save you a bit of weight. The difference will not be huge but it will feel far less cumbersome on your head.
A Good Fit: One of the main things you will get spending more amount is a much better fit. A good fit is important when it comes to the helmet doing its job. If you get a helmet that is too big, it will move in the case of an impact. If it is too small, it will be perched on top of your head and will not offer you protection. Almost every model of the helmet comes in a variety of sizes. Choose the one which is most suited to your head size.
Premium Straps: When you pay more, you get a model with much better-designed straps. That means they're less noticeable, which is a good thing. They will fit nice and snugly around your ears and under your chin.
Better Quality Padding: There will be a better quality of internal padding. Often, these paddings offer moisture-wicking capability, which is a good thing for those hot weather rides.
Better Retention System: Most high-end helmets will come with a premium retention system meaning that you can adjust internal diameter so there's a nice and snug fit all around your head. Also, there's a large degree of adjustability up and down and that's great if you've got a ponytail.
Vents that Work: In general, investing a bit more money will either get you more vents or get you vents that work better. These vents designed to maximize the airflow whilst you're out riding your bike. Whether or not this needs to be a consideration to you depends on the type of climate in which you ride.
Aerodynamics: An aero helmet will cost you a little bit more money and that's because the manufacturers will have to test them out in the wind tunnel. It also probably tested them out on professional rides in teams that they've had to spend money sponsoring. A more aero helmet will allow you to go faster for the same effort on flat road and down hills and even climbs to an extent if you're quick enough. For the vast majority of riders, this is not a consideration but for those of you out there who just want to go faster whenever you can, it should be a consideration. Because a helmet will make a much bigger difference than most of the upgrade that you can make to your bike.
In conclusion, if you're about to buy a road helmet you don't have to spend a lot of money. Just make sure it meets the safety standards in your country. Spending more on your helmet should mean it's a lot more comfortable, it fits better, it's better ventilated, and it might even make it more aerodynamic.
How to choose the right Cycling Helmet?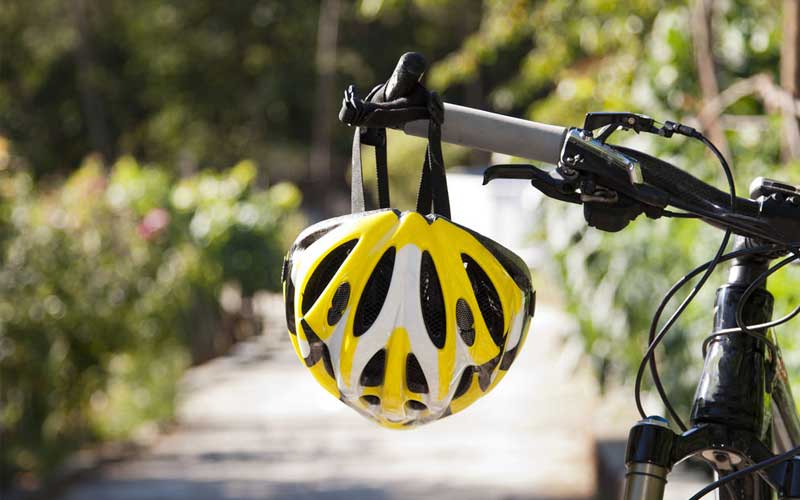 As straight forward as it seems, choosing the right cycling helmet for yourself can become tricky if you don't know what you are looking for or what you should expect from the helmet that you just bought. You may end up with a wrong type of helmet that is not meant for the kind of cycling you are into or that it doesn't fit you well because it doesn't match the shape of your head causing you discomfort.
One may look at helmets and think that they are all the same, that is, a protective shell on the head, but there are small details that differentiate these helmets, their intended purpose, and the shape of the head they should fit. If you are among the people who want to know how to choose a cycling helmet for themselves, then here are a few tips to help you make the right choice:
Helmet Category
Helmet categories simplify the selection process by making it easy to choose a helmet more suited to the rider's style. Cycling helmets usually fall in three basic categories:
Road cycling helmet: These helmets are made to go fast, hence, they are lightweight and have a very aerodynamic shape.
Mountain cycling helmet: These helmets are more focused towards protection from hard rock and sometimes steep falls that an unfortunate rider might experience in the mountains. Usually, these helmets also cover the rear of the head because a rider in the mountains is more prone to fall backwards.
Recreational cycling helmets: These types of helmets are for casual riders. They are budget-friendly helmets and offer basic impact protection.
Helmet Protection
A helmet contains an outer hard shell and a soft inner liner. Both are integrated to protect by different means.
Outer shell: The outer hard shell is usually made of hard plastic which prevents puncture in the shell. It also slides on impact which reduces the intensity of the impact protecting the head and neck.
Inner liner: The inner soft liner is made of polystyrene foam. The function of this layer is to absorb impact and spread it over the shell to neutralize high impact with a small surface area causing skull fractures and even brain damage. There are several other technologies employed by different manufacturers to counter-rotational forces as well which result in an impact and can cause severe damage. Of course, they are do cost more for this added protection. Here are some of the common technologies being used these days:
WaveCel: WaveCel features a liner that has a honeycomb cell design. These cells are designed to form crumple zones in case of impacts absorbing their energy.
SPIN: Shredded Pads Inside features silicone-injected pads in a specialized structure that moves inside the shell to redirect rotational forces during an impact.
MIPS: Multi-directional Impact Protection System is most commonly found on many brands than the above-mentioned technologies and features a low-friction layer which rotates slightly during an impact countering the rotational forces on the head.
Fit
After the decision has been made about what type of helmet one needs, it all comes down to the fit. A helmet that doesn't fit well becomes ineffective in providing proper protection, furthermore, such a helmet is also uncomfortable. So, an adequate fit is very important when buying a helmet. To get a perfect fit, one needs to measure the circumference of the head. To measure the circumference of the head, wrap a flexible measuring tape around the largest part of the head, that is, from just above the ears and across the forehead. Note the value and then correspond to the manufacturers' given measurements.
Brand sizing in manufacturers vary slightly and brands also use proprietary shapes so always try the helmet before buying. In case the head size is in between the given sizes, either look for other options or go for the smaller one if there is no other option. A beanie or a cap can also be worn to improve the fit of the helmet. The helmet should sit snugly on the head and level as well. It shouldn't be tilted back and should remain an inch above the eyebrows to avoid reducing the field of view. Push the head from side to side and back and forth with the helmet on. If the helmet shifts too much (one inch or more), then the fit of the helmet needs to be adjusted.
Additional Features
There are some additional features that one can look for while buying a helmet which can be helpful. But do keep in mind that these features raise the cost of the helmet.
Mount Points: With the advent of V-logging for YouTube and other platforms, a lot of manufacturers have started to include mount points to mount cameras like GoPros. If you are one of them, then you should look for this feature in a helmet.
Full face protection: It is uncommon for cycling helmets to have full-face protection. However, some mountain cycling helmets have a chin wraparound and full-face protection.
Removable Padding: Removable padding makes it easy to wash the inner liner of the helmet. It is commonly found in helmets today.
Ventilation: The more vents there are in a helmet, the lighter and cooler it is.
Visors: Visors are commonly found on mountain bike helmets.
When to replace the Helmet?
A helmet needs to be replaced immediately after a crash even if it looks fine, it must be replaced as the structure of the shell loses strength. Furthermore, a helmet should be replaced after every 5 years as exposure to sunlight, dust, and other elements also weaken the structure of the helmet.
Best Budget Cycling Helmets of 2021